What Can a Hip Pain Dr. Do for Pain in the Hip? A Harvard Trained Pain Doctor Responds
Resuming traveling is one thing you've been desperate to achieve after a long year with no trips. As soon as your feet hit the ground in a new city, you're ready to explore. You prefer to see everything up close and personal, so your legs are motoring you around for the day. By evening, your hip is quite sore, and you return to your hotel room sooner than you'd like.  Even though it's been a while since you've walked this much, you didn't expect that your body would be so out of sorts. Unfortunately, your hip pain continues through the trip and follows you home, causing you to cancel and avoid activities that you were looking forward to.
When is it time to follow up with a hip pain doctor? Any time you find yourself cancelling plans or altering your life to accommodate your hip pain, it's time to find a solution for your issue. Life is too short to let hip pain control your day, so consult the experts at Pain Treatment Specialists and see how our Harvard trained pain doctors can help. All of our board certified pain doctors use interventional pain management to treat chronic joint pain, and create customized treatment plans for each patient. Scheduling an appointment at our pain clinics in northern NJ and NYC is easy, and you're paired with a personal concierge during your first contact. This person verifies your insurance info (don't worry—we accept most major carriers!) and also finds a convenient time for your appointment. All that's left for you to do is visit our pain clinics and find effective solutions for your nagging hip pain. Spend your spare time researching your next destination, not the cause of your hip pain!
Which Hip Pain Dr. is Right for Me?
The type of hip pain doctor you visit determines the course of your treatment plan. If you first meet with an orthopedic surgeon, you can guarantee that surgery is one option that is discussed. That's because an orthopedic surgeon is trained to utilize surgery as their primary treatment option. In many instances, hip replacement surgery is avoided by first utilizing pain medicine. That's where the interventional pain doctors at Pain Treatment Specialists shine! Our Harvard trained pain doctors use pain treatments that allow you to move comfortably and without chronic pain. These minimally invasive treatments relieve pain in the hip and allow you to resume normal activities without feeling like you need to sit and rest.
At our pain clinics in NYC and northern NJ, you'll meet with one of our top-rated hip pain doctors, like Dr. Shane Volney. Dr. Volney is a former Clinical Instructor at Harvard Medical School, where he taught anesthesiology, pain medicine, and palliative care for 7 years. He brings this depth of experience to patients at Pain Treatment Specialists, who turn to him for the best medical advice about hip pain. Dr. Volney's patients describe him as patient, kind, and thorough in both the diagnosis and treatment of their hip pain concerns. He makes it a point to treat each patient's overall wellness, and not just their hip pain. If you're able to live your best life without pain, then Dr. Volney is satisfied with his work.
Contact the hip pain experts at Pain Treatment Specialists and find the right hip pain doctor for your needs. With convenient locations in NYC and northern NJ, our team of board certified pain doctors have a wide variety of pain treatments at their state of the art pain clinics.
How Can Healthy Living Prevent Joint Pain?
Keeping an active and healthy lifestyle is one of the best ways to keep a hip pain doctor out of your phone's contact information. There are some degenerative conditions like osteoarthritis and rheumatoid arthritis that require professional pain treatments, and falls and accidents that lead to hip fractures also require medical attention. There are wats that you can begin investing in healthy living and better your overall health, as well as reduce your hip pain at home.
First, maintaining a healthy weight is essential for many different aspects of your health. Not only does a healthy weight mean better heart health, it also puts less stress on your joints. The less you weigh, the less pressure is put on your hip joints. Think of your hips as a door hinge. When you open and close a door and the hinges are well-oiled, it moves easily. However, if a small child was hanging on the door while you tried to open it, the motion would not be as smooth. Think of extra weight on your body as the extra weight on the door.
An active lifestyle that involves regular exercise is also great for your joint pain. Your joint pain can result in wanting to stop these types of activities because it hurts. However, a body in motion likes to stay in motion! Keeping your body active with sports like swimming, yoga, or tai chi not only helps your aerobic endurance, but also keeps your joints moving.
Healthy living is one step to curtailing your joint pain. Consult the pain doctors at Pain Treatment Specialists and find out how their pain management treatments also help your body remain active.
What Does the Diagnosis and Treatment of Hip Pain Look Like?
When you first arrive at our pain clinics, you'll be warmly greeted by our front end staff, who check you in. After a brief wait in our clean and modern waiting room, you'll be escorted back to our private consultation area. Here, you'll meet with one of our warm and compassionate pain doctors who listens carefully to your hip pain concerns. Your hip pain doctor then completes a gentle physical examination to determine the types of movements or activities cause you discomfort, and may also ask to see how you walk. If needed, additional imaging techniques are ordered. Finally, your hip pain doctor provides the diagnosis of your hip pain, which could include bursitis, osteoarthritis, or tendonitis.
Your final step is discussing your customized hip pain treatment plan, which might include steroid injections or lubricant injections to help relieve your hip pain. These minimally invasive procedures are then scheduled, and you can begin to look forward to you resuming your normal life. Since all of our procedures are minimally invasive, you can schedule your day and week as usual, due to the minimal recovery time needed for each treatment.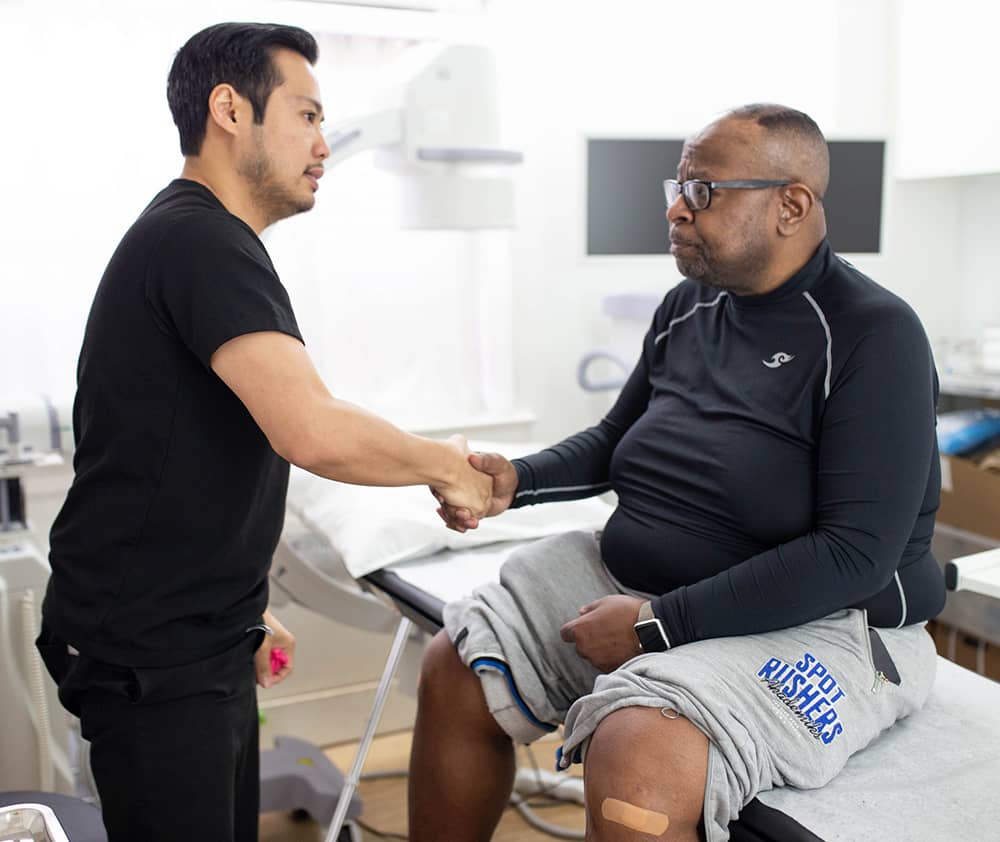 We offer free insurance verification! Fill out the form and expect a call from one of our agents:
Not sure which hip pain doctor is right for you? Schedule an appointment at Pain Treatment Specialists and find a highly-effective alternative to hip surgery. Travel is a great incentive to get your hip back into exploring condition!
LEARN MORE ABOUT OUR TEAM OF SPINE & JOINT SPECIALISTS IN NEW YORK & NEW JERSEY:

Call us
Speak instantly with an agent to verify your insurance and book an appointment.
(866) 446-0946

Book Online
Visit our
Book appointment 
page
and instantly request an appointment at a Spine & Joint center near you. We offer Free Insurance Verification before your appointment.

Get Directions
Learn how to easily get to the Spine & Joint center locations.
FEATURED POSTS BY PAIN DOCTORS
How Does Physical Therapy for Back Pain Help You Feel Better?Once the spring weather begins to thaw winter's chill, a host of outdoor activities become accessible again. On a particularly balmy afternoon, you hit the links for a quick round of golf. Your body feels...
read more