Consult with Harvard Trained Hip Pain Doctors to Find Hip Pain Relief
When hip pain first enters your life, it makes you instantly grateful for the times when you were able to move around pain-free. Before, you didn't think twice about playing a few rounds of golf after work, but now your hip pain tells you it's best to just head home. You used to do laps around your office building during lunch, but now you're content to just finish your salad at your desk and get back to work. Hip pain is not only demoralizing, it can also be debilitating. Don't put off finding treatment for your hip because you're afraid that hip replacement surgery is the only option for your treatment. In most cases surgery is avoided through more conservative avenues, and you'll be able to regain your normal range of motion.
The best hip pain doctors assess your hip pain, listen to your concerns, and create a customized treatment plan to combat your hip pain. At Pain Treatment Specialists, our doctors patiently answer all of your questions such as "Why would I see a rheumatologist?", "What the difference between orthopedic and rheumatologist?", "Do orthopedic doctors treat gout?", and "Does a rheumatologist treat osteoarthritis?" The hip pain doctors at our pain clinics are all board certified and Harvard trained in pain medicine and pain management, which allows them to thoroughly answer all of your concerns about hip pain. Schedule an appointment and begin the process of finding solutions for your chronic hip joint pain.
Who are the Top Hip Pain Doctors in My Area?
If you live in northern NJ or NYC, you have lots of options for pain treatments. Which hip pain doctors offer the best care and treatment plans? Pain Treatment Specialists consistently ranks well with their patients, who praise their effective pain relief treatments, as well as the overall experience at their pain clinics. During your initial consultation, you'll have time to thoroughly outline your hip pain concerns, and how it's affecting your daily life. All of the pain doctors at our clinics in NJ and NYC are empathetic to the struggles that go along with chronic pain issues, and never make you feel ashamed or embarrassed to discuss your problems. Next, a gentle physical exam is conducted to assess your gait and range of motion. Finally, your pain doctor uses their extensive background in pain management to create a treatment plan based on their accurate diagnosis of your hip pain.
One of the doctors you'll meet at our state of the art pain clinics is Dr. Laura Lombardi. Dr Lombardi is a former Division 1 athlete, and understands how nagging injuries and chronic pain affect both your activity levels and your daily comfort. She fellowship trained at Harvard in interventional pain medicine, and specializes in fluoroscopic-guided pain treatments. These treatments utilize a special x-ray called a fluoroscope, and allows Dr. Lombardi to precisely identify the area needed for hip pain treatment.
Scheduling an appointment at Pain Treatment Specialists ensures that you'll receive the most cutting-edge pain treatments, and also a sympathetic pain doctor who carefully listens to your experiences. Our goal of restoring patients' quality of life is evident during every step of the appointment and consultation process at our pain clinics.
What's the Difference Between a Rheumatoid Physician and a Pain Doctor?
Rheumatoid arthritis is categorized as an autoimmune disorder, and causes joint pain throughout your body. A doctor that treats rheumatoid arthritis is called a rheumatoid physician or a rheumatologist. A rheumatologist specializes in diagnosing and treating this autoimmune disease. Does a rheumatologist treat arthritis? Osteoarthritis is different from rheumatoid arthritis, and a rheumatologist helps patients with RA avoid foods or triggers that can aggravate their autoimmune condition. Osteoarthritis is caused by aging and normal wear and tear, so a rheumatologist would not be your best choice if this is the source of your hip pain.
A pain doctor treats the joint pain caused by both rheumatoid arthritis and osteoarthritis. They use hip pain medication that is targeted to the exact source of your pain, providing maximum pain relief. For example, corticosteroid injections reduce pain and inflammation resulting from your hip pain condition. These injections are minimally invasive, and you'll be back on your feet in just a few minutes. Hip treatment medicines are also used to slow down bone loss and take proactive measures to prevent future damage.
Hip pain caused by osteoarthritis and rheumatoid arthritis is easily treated at Pain Treatment Specialists. Book an appointment at one of our pain clinics and you'll feel the difference after just one pain treatment.
What are Common Hip Pain Causes?
Your hip is designed to take a lot of wear and tear throughout your lifetime due to its ball and socket design. When something is out of place, swollen, or deteriorating, your hip pain is both excruciating and debilitating. At Pain Treatment Specialists, we're here to not only help relieve your hip pain, but also provide you with the proper diagnosis of your hip pain.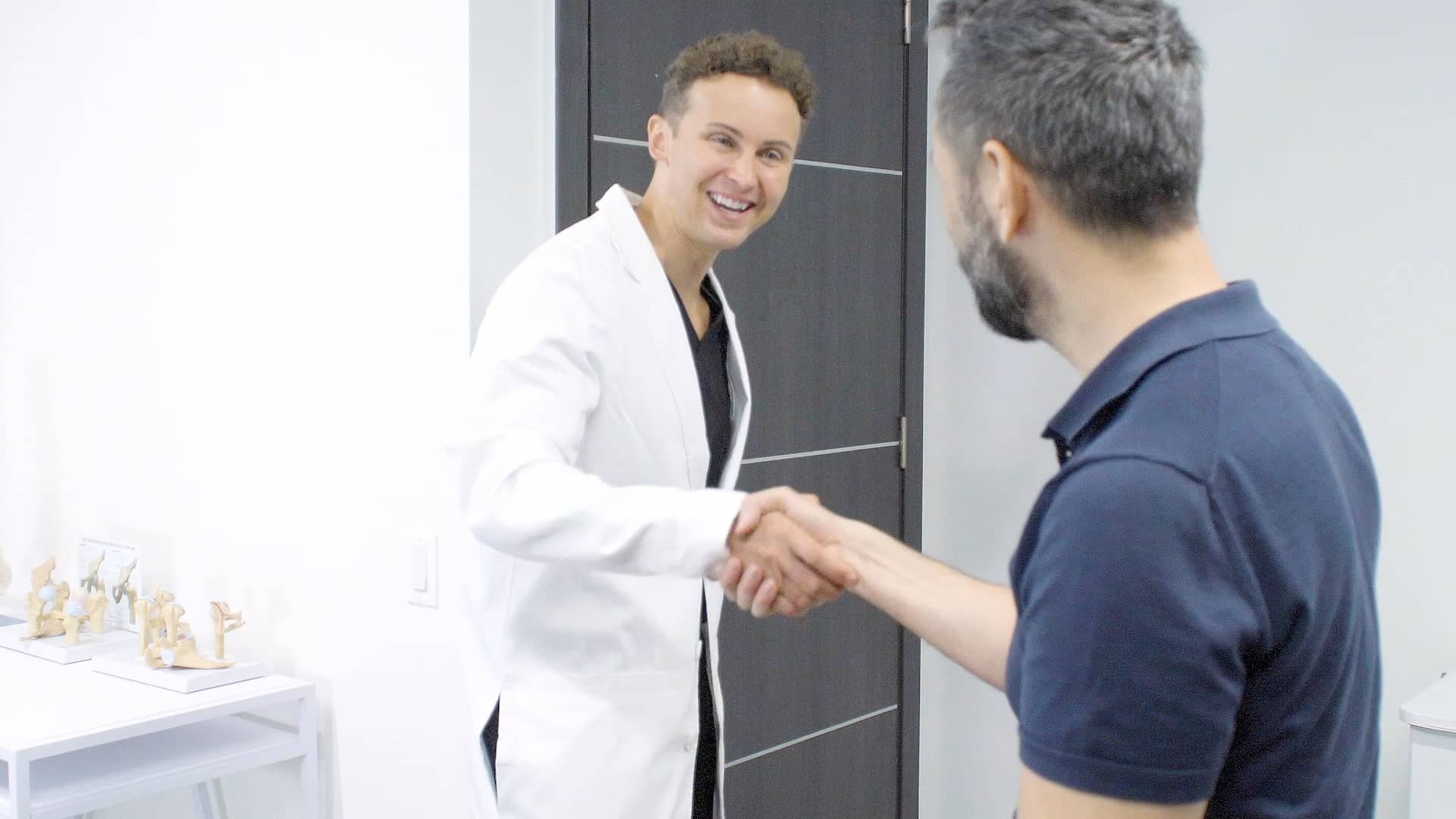 We offer free insurance verification! Fill out the form and expect a call from one of our agents:
One of the most common causes of hip pain is osteoarthritis. This is caused by aging and normal wear and tear, and leads to the breakdown of cushiony cartilage that protects your hip bones. Osteoarthritis of the hip progresses over time, and produces stiffness, limited range of motion, and a grinding sensation near your hip.
Hip fractures occur during an accident or fall, and are more common in people whose bones are weak and brittle. If you've recently suffered a serious fall and lose control of your bowels or bladder, or are unable to move, please seek immediate medical attention.
Bursitis is a common source of hip pain and affects your bursae, which are sacs of liquid found between tendons and muscles. Your bursae become inflamed if you complete repetitive motions (like running) that irritate the hip joint. Tendonitis is another common hip pain cause that is related to overuse. When your tendons are inflamed, your hips feel tight and it is painful to walk long distances.
The hip pain doctors at Pain Treatment Specialists look forward to meeting with you and discussing your hip pain concerns. With convenient locations in northern NJ and NYC, our team of Harvard trained pain doctors will relieve your hip pain, and also your worries about avoiding activities that you enjoy.
LEARN MORE ABOUT OUR TEAM OF SPINE & JOINT SPECIALISTS IN NEW YORK & NEW JERSEY:

Call us
Speak instantly with an agent to verify your insurance and book an appointment.
(866) 446-0946

Book Online
Visit our
Book appointment 
page
and instantly request an appointment at a Spine & Joint center near you. We offer Free Insurance Verification before your appointment.

Get Directions
Learn how to easily get to the Spine & Joint center locations.
FEATURED POSTS BY PAIN DOCTORS
How Does Physical Therapy for Back Pain Help You Feel Better?Once the spring weather begins to thaw winter's chill, a host of outdoor activities become accessible again. On a particularly balmy afternoon, you hit the links for a quick round of golf. Your body feels...
read more