Restore Your Quality of Life by Meeting with a Hip Pain Doctor for Joint Pain Relief
When you start planning a vacation, what are the different things you begin to anticipate? You might double check that your passport is up to date, research flights and layovers, and which hotel is closest to the beach. If you also consider what activities you'll have to avoid due to your hip pain or joint pain, then it's time to consider meeting with a hip pain doctor. Hip pain is one of the leading reasons why people become less active, which is bad for both your mental and physical health. Sitting on the sidelines during your vacation while the rest of your group enjoys a vigorous hike, tropical bike tour, or walk around the city center makes you feel like you're missing out on precious memories with your loved ones.
If you're ready to cross "hip pain" off of your travel itinerary, it's time to schedule an appointment at Pain Treatment Specialists, with convenient locations in Midtown Manhattan and northern New Jersey. Their hip pain doctors identify your hip pain causes, and then create a customized treatment plan using minimally invasive methods that provide long-lasting relief from your hip pain. If you want to get to the root of the question "Why does my hip hurt?", meeting with the hip pain doctors at Pain Treatment Specialists is your best choice.
Who is the Best Hip Pain Doctor for Pain in the Hip?
You don't need to spend endless hours searching the internet with phrases like "do orthopedic doctors treat gout", "doctor that treats rheumatoid arthritis", "orthopedic vs rheumatologist", and "doctor for rheumatoid arthritis near me." Whether your hip pain is caused by rheumatoid arthritis, osteoarthritis of the hip, or normal wear and tear, the hip pain doctors at Pain Treatment Specialists are able to find a minimally invasive solution that works for you.
Our pain doctors specialize in interventional pain medicine, and not surgery for hip pain relief. Hip replacement surgery is not recommended unless all other pain medicine options are exhausted, or if it's medically necessary. The difference between an orthopedic and rheumatologist and a pain doctor is that a pain doctor focuses on minimally invasive treatments, not surgery.
One of of top hip pain doctors is Dr. George Hanna. He is the former Director of Pain Innovations and Technology at Harvard Medical School, where he was also a Clinical Instructor. As a board certified pain doctor in anesthesiology and pain management, Dr. Hanna has a great deal of experience treating people with chronic pain issues. His patient reviews are glowing, with many mentioning his ability to properly diagnose and treat their hip pain, allowing for a return to sorely missed activities.
You don't have to live in constant pain caused by osteoarthritis of the hip, rheumatoid arthritis, or other hip pain conditions. Schedule an appointment at Pain Treatment Specialists and begin to write hip pain out of your travel plans.
Your hip is designed to take a lot of wear and tear along with repetitive motions. Its ball and socket design is one of your body's most clever features, and allows you a wide range of motion. When your hip has something out of place or injured, you'll be very aware that something is off. Your pain doctor at Pain Treatment Specialists will be able to properly diagnose the cause of your hip pain, and explain the source of your discomfort during your initial consultation. If you are experiencing a loss of bowel or bladder control due to your hip pain, or believe that you have a hip fracture, seek immediate medical attention.
Osteoarthritis of the hip is one of the most common causes of hip pain for older adults.This condition causes your hip's cartilage to deteriorate, which leads to pain and swelling as your hip's bones rub together. Hip osteoarthritis is caused by normal wear and tear as we age.
Hip bursitis occurs when your bursae are inflamed due to overuse or repetitive motions. Bursae are fluid filled sacs that cushion your hip's tendons and muscles. Tendonitis is a condition also related to overuse or repetitive motions, and affects your hip's tendons.
If you want an answer to "Why does my hip hurt?", schedule an appointment at Pain Treatment Specialists, where you'll find relief from your chronic pain.
What are the Best Solutions for My Hip Joint Pain?
If you suffer from hip pain when walking or climbing stairs, then it's time to find a solution that allows you to live without chronic pain. At Pain Treatment Specialists, we have a wide variety of treatments that relieve your hip pain, and allows you to walk and move without pain.
Steroid injections are one of the first treatments used to address your hip pain. Corticosteroid injections are highly effective at reducing your hip pain and inflammation, and get you back on your feet the same day. During this procedure, your pain doctor draws the corticosteroid injection into a syringe, and determines the exact area for tissue injection.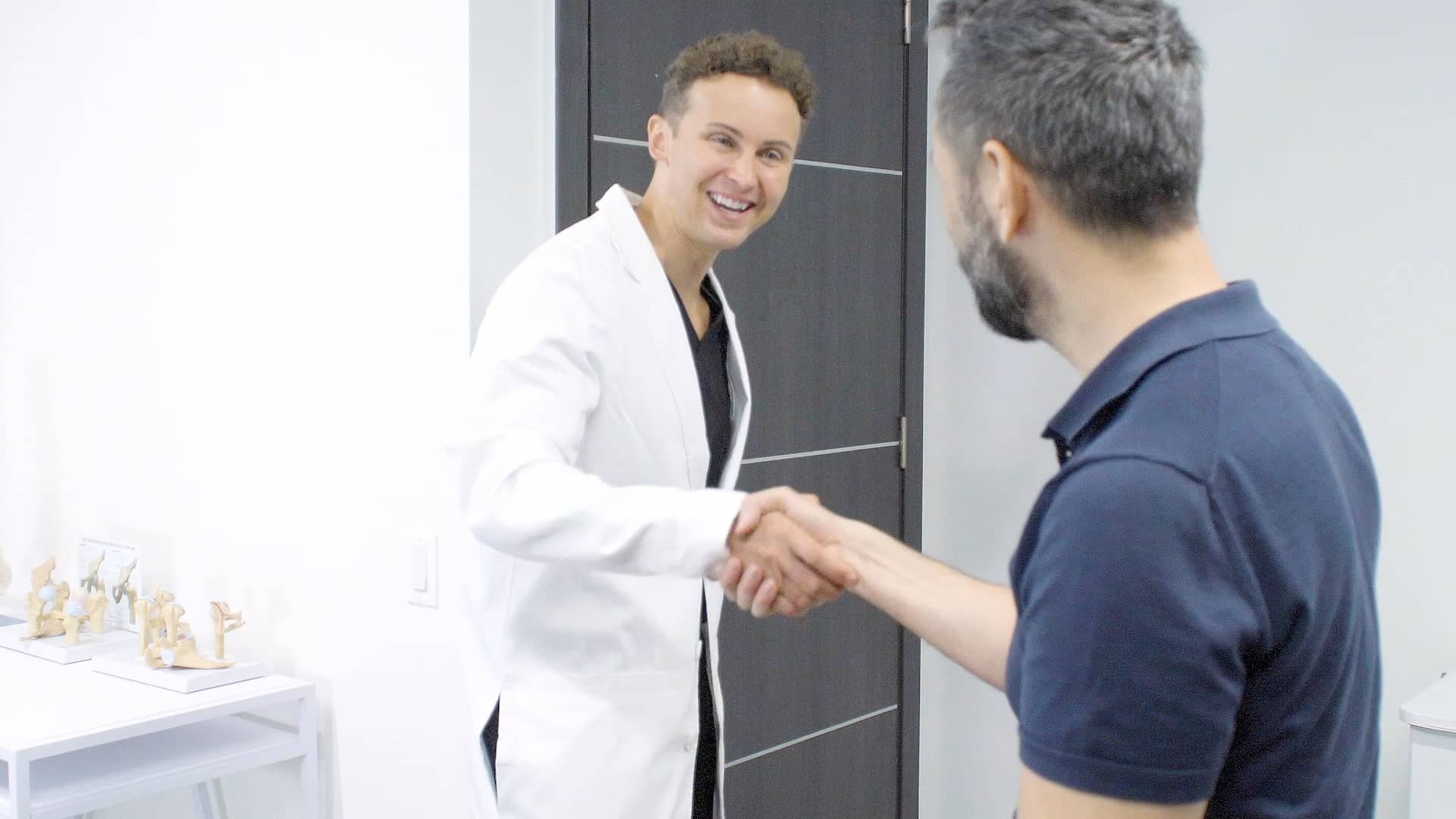 We offer free insurance verification! Fill out the form and expect a call from one of our agents:
Since we lose joint fluid as we age, replacing this joint fluid allows you to move more easily and without pain. This procedure is called a hyaluronic acid injection, which helps supplement your hip's natural joint fluid. Hyaluronic acid is one of the main components of joint fluid, and gives the fluid its viscous, slippery properties. You'll feel your hip move with ease and without that grinding sensation produced by your bones rubbing together.
Don't sit out the most exciting parts of your upcoming adventure! Find effective solutions for your hip pain at Pain Treatment Specialists, where our hip pain doctors provide the best treatments for getting your quality of life back.
LEARN MORE ABOUT OUR TEAM OF SPINE & JOINT SPECIALISTS IN NEW YORK & NEW JERSEY:

Call us
Speak instantly with an agent to verify your insurance and book an appointment.
(866) 446-0946

Book Online
Visit our
Book appointment 
page
and instantly request an appointment at a Spine & Joint center near you. We offer Free Insurance Verification before your appointment.

Get Directions
Learn how to easily get to the Spine & Joint center locations.
FEATURED POSTS BY PAIN DOCTORS
How Does Physical Therapy for Back Pain Help You Feel Better?Once the spring weather begins to thaw winter's chill, a host of outdoor activities become accessible again. On a particularly balmy afternoon, you hit the links for a quick round of golf. Your body feels...
read more