What Types of Elbow Pain Require an Appointment with Elbow Treatment Specialists?
Bumping your elbow causes temporary, sharp pain and likely an audible "Ow!" After you rub your elbow for a moment, the pain subsides and you go about your day. What happens when that elbow pain follows you throughout the day, creating the same sharp pains every time you lift an object, straighten your arm, or brush your hair? This type of chronic pain can be debilitating, and makes you lean on others for help with basic tasks like grocery shopping and cleaning. Even worse, you avoid activities and outings that you enjoy because your elbow pain is too intense.
You don't have to suffer with chronic elbow pain any longer! At Pain Treatment Specialists, our elbow treatment specialists use minimally invasive treatments that find the source of your elbow pain and remove the pain from your life. The proper diagnosis and treatment of your chronic elbow pain is as easy as scheduling an appointment at Pain Treatment Specialists, where you're paired with a personal concierge who helps verify your insurance. From there, your concierge finds a day and time that works best with your schedule and books your initial consultation. The entire process is facilitated by our friendly and helpful patient services coordinators, and continues with our board certified and Harvard trained elbow doctors.
Who are the Best Elbow Treatment Specialists?
Not all elbow treatment specialists approach chronic elbow pain with the same methodology. For example, an orthopedic surgeon believes that the best method for treating elbow pain is surgery. This is because their background in orthopedic surgery informs their diagnosis and treatment. At Pain Treatment Specialists, our elbow specialists are not orthopedic surgeons, but rather pain management doctors. This type of doctor uses interventional pain medicine, and not surgery, for elbow pain treatment.
One of our pain management specialists is Dr. George Hanna, former Director of Pain Innovations and Technology at Harvard Medical School. Double board certified in anesthesiology, pain medicine, and interventional pain management, Dr. Hanna also publishes scientific articles in medical journals related to these fields. He regularly speaks at national medical conferences, and also authors textbook chapters on the best practices in pain medicine. More importantly, Dr. Hanna's bedside manner is impeccable. His patient reviews describe him as someone who provides "hope for a better quality of life."
Dr. Laura Lombardi fellowship trained in interventional pain medicine at Harvard, and is double board certified in anesthesiology and pain medicine. One of Dr. Lombardi's specialities is fluoroscopic-guided pain treatments, which requires the mastery of a special x-ray called a fluoroscope. This x-ray allows Dr. Lombardi to identify the exact area of your elbow pain, which then isolates the area for precise administration of pain medicine.
Dr. Hanna and Dr. Lombardi are just 2 of our elbow doctors at Pain Treatment Specialists who are eager to properly diagnose and treat your elbow pain. Schedule an appointment and take the first step towards eliminating elbow pain from your life.
What is the Best Treatment for Tennis Elbow?
Tennis elbow is a condition that affects the outside of your elbow, causing pain when you grip objects. Even if you've never played tennis, you can still suffer from this type of tendonitis. If you have a job or hobby that requires repetitive arm motions or grips, you may suffer from pain on the outside of your elbow. This type of pain in your hand, wrist, and elbow is very common, and easily treated at Pain Treatment Specialists. During your initial consultation, your elbow doctor listens carefully as you describe your elbow pain, and then completes a physical examination of your elbow. If needed, additional imaging procedures are ordered, and then the diagnosis of your elbow pain is complete. From there, your pain doctor outlines a treatment plan that may include one of the following minimally invasive treatments:
Physical Therapy: One of the most conservative, and effective, treatments for tennis elbow is physical therapy. Your physical therapist creates a customized treatment plan for your elbow pain including stretches, hand and wrist exercises, and periods of resting and icing.
Steroid Injection: A corticosteroid injection is an excellent way to relieve the pain and inflammation caused by tennis elbow. This treatment delivers pain medicine to the precise area where it is needed, which provides highly effective elbow pain relief. A steroid injection also has no downtime, and you'll be able to resume normal activities without pain. 
Chronic elbow pain like tennis elbow is easily treated with minimally invasive pain treatments. Contact the pain doctors at Pain Treatment Specialists and find relief from your aching elbow.
How Do I Describe Pain to an Elbow Specialist?
Elbow treatment specialists are experts at listening to patients' pain concerns and then developing a proper diagnosis. However, you can assist your elbow doctor by providing a more accurate picture of your elbow pain with a few tips.
Keep a Pain Journal: In the weeks leading up to your appointment, write down a quick summary of your daily elbow pain. Do you have days where there's no pain at all? Do you have days where the elbow pain is so intense you had to cancel your plans? This visual record of your elbow pain gives your doctor additional insight into the frequency of your elbow pain.
When Does it Hurt?: In this pain journal, make sure to note specific times of day or activities when your elbow hurts. If you can easily pick up your child without elbow pain, but gripping a pen is agony, these details are also crucial in your diagnosis.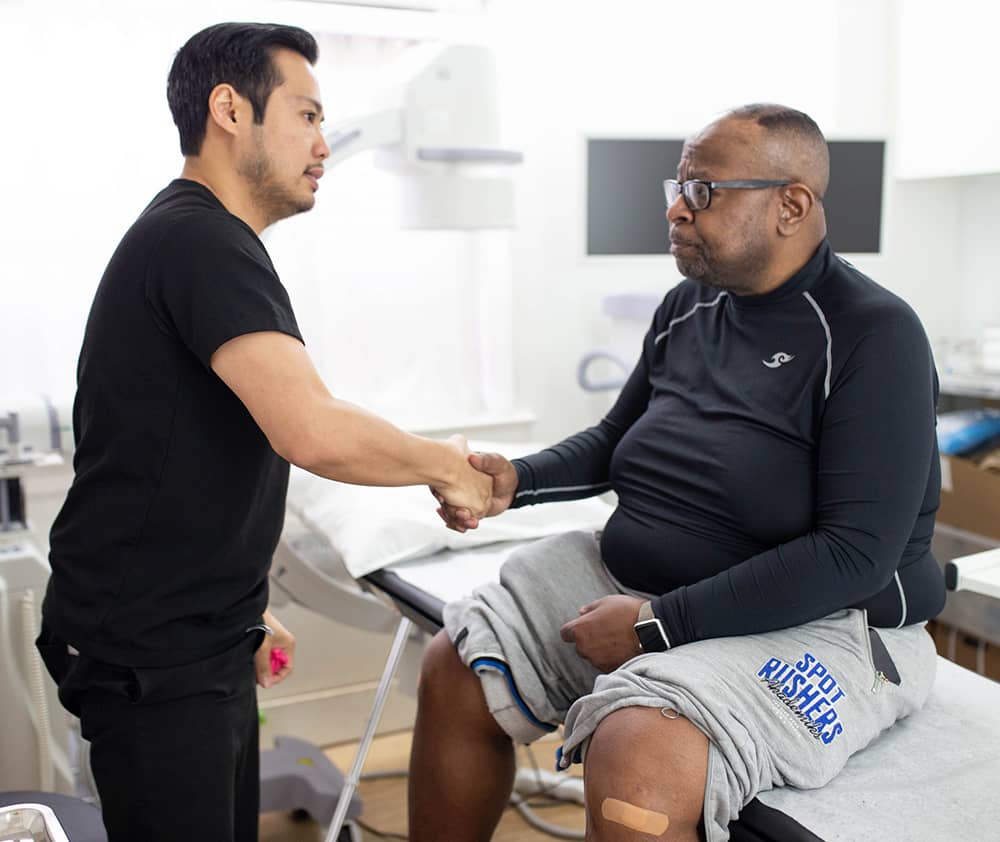 We offer free insurance verification! Fill out the form and expect a call from one of our agents:
3. Assign Pain Levels: When you do feel pain, rate it on a 1-10 scale, with 1 being non-existent and 10 being excruciating. All of these pieces together in your pain journal paint a more accurate picture of your elbow pain.
When is it time to meet with an elbow treatment specialist? If you're experiencing elbow pain on a regular basis, it's time to get to the bottom of why your elbow aches. Book an appointment at Pain Treatment Specialists and receive the proper diagnosis and treatment for your elbow pain from skilled and compassionate elbow pain doctors.
LEARN MORE ABOUT OUR TEAM OF SPINE & JOINT SPECIALISTS IN NEW YORK & NEW JERSEY:

Call us
Speak instantly with an agent to verify your insurance and book an appointment.
(866) 446-0946

Book Online
Visit our
Book appointment 
page
and instantly request an appointment at a Spine & Joint center near you. We offer Free Insurance Verification before your appointment.

Get Directions
Learn how to easily get to the Spine & Joint center locations.
FEATURED POSTS BY PAIN DOCTORS
How Does Physical Therapy for Back Pain Help You Feel Better?Once the spring weather begins to thaw winter's chill, a host of outdoor activities become accessible again. On a particularly balmy afternoon, you hit the links for a quick round of golf. Your body feels...
read more