What Does an Elbow Treatment Specialist Recommend for Elbow Injuries and Conditions?
You know you've really reached peak adulthood when you spend your day off prepping for the busy week ahead. First on your to-do list? Grocery shopping for the week. After clipping your coupons, getting in and out of the store efficiently, and loading the car with bags, you're feeling a sense of accomplishment. You're ready to unpack the car, unload your haul, and get moving on the rest of your day. However, your elbow pain has different plans. You felt some tweaks of pain while grocery shopping, but now it's really become problematic as you're trying to carry the heavy bags into your house. On your final trip, your elbow gives out and your goods tumble all over the floor. This is when you decide it's time to contact an elbow treatment specialist to find out why your elbow pain is getting worse.
At Pain Treatment Specialists, our elbow pain doctors are also pain management specialists. This means that they are able to properly diagnose and treat your elbow pain without surgical treatments. Our board certifies elbow doctors know how to relieve elbow pain with a variety of treatment options including steroid injections, physical therapy, and viscosupplementation. When you schedule an appointment at Pain Treatment Specialists, you're paired with a personal concierge who helps verify your insurance information and books a convenient appointment time. The entire process from start to finish is easy, reassuring, and efficient!
What Qualifications Should My Elbow Treatment Specialist Have?
Unless it is medically necessary, surgical treatments for elbow pain are not suggested at Pain  Treatment Specialists. Most elbow injuries and conditions like tennis elbow, bursitis, and elbow tendonitis are easily treated with interventional pain medicine. When searching for an elbow treatment specialist, look for an elbow doctor who is fellowship trained in pain medicine or interventional pain management, like the pain doctors at Pain Treatment Specialists. This ensures that you'll receive the best care for your elbow pain with minimally invasive elbow pain treatments. Some of our elbow doctors include:
Dr. George Hanna: As a nationally recognized pain specialist, Dr. Hanna brings his wealth of expertise to our pain clinics in NYC and northern NJ. His patients describe him as "very helpful" and "caring, understanding, and empathetic" to patients' pain concerns. He is the former Director of Pain Innovations and Technology at Harvard, and was also a former Clinical Instructor of Anesthesiology at the school as well. His kind and compassionate bedside manner is matched by his knowledge and experience in pain medicine.
Dr. Shane Volney: Dr. Volney's patients describe him as "caring" and "detail oriented" and someone who "goes the extra mile" to find solutions for elbow pain. His expertise in the field of pain management is equally praised by his colleagues, who regularly invite him to speak at national conferences about the latest advances in pain treatments. He is double board certified in anesthesiology and pain medicine by the American Board of Anesthesiology.
Dr. Volney and Dr. Hanna are just 2 of our highly rated pain doctors. When you book an appointment at Pain Treatment Specialists, you'll find relief from your elbow pain and comfort from your pain doctor as they help you navigate your diagnosis and treatment plan.
What Can I Expect During a Visit With My Elbow Doctor?
Your positive experience at Pain Treatment Specialists begins when you reach out to our friendly front office staff. You'll be paired with a personal concierge who is able to verify your insurance coverage, and also helps you book an appointment that works around your schedule. When you arrive at one of our pain clinics, you'll feel reassured at its sparkling clean appearance and strict adherence to Covid-19 health and safety protocols. Your wait time is minimal after checking in, and you'll be quickly escorted into one of our consultation rooms.
Next, you'll meet with one of our knowledgeable and compassionate pain doctors, who spends the first part of your appointment carefully listening to your elbow pain concerns. Your pain doctor asks questions such as "How long has your elbow been bothering you?" and "What types of activities cause you the most elbow pain?" to help inform their diagnosis. Then, your elbow doctor gently examines your elbow, and may request further imaging results to properly identify the cause of your pain.
Finally, your pain doctor explains the diagnosis of your elbow pain, allowing time for you to ask questions about what's being covered. Your treatment plan is also outlined, and your pain doctor thoroughly reviews your next steps and how they provide relief from elbow pain. Now you'll begin scheduling future appointments that focus solely on your elbow pain treatments.
When you're finished with your pain treatments at Pain Treatment Specialists, your elbow will not only be pain free, but also more flexible and stable. It's easy to begin the process and finally find relief from elbow pain.
How Can I Treat Elbow Pain at Home?
Our elbow treatment specialists recommend using the RICE method for at-home elbow pain relief. This means resting your elbow and not putting undue stress on your elbow joint by carrying or lifting heavy objects. Ice your elbow in 20 minute intervals to reduce pain and swelling, and compress it with an arm brace to provide additional support. Elevate your elbow with pillows or blankets to reduce swelling and pressure and increase blood flow. Using over the counter pain medicine is also a good solution for short-term pain relief.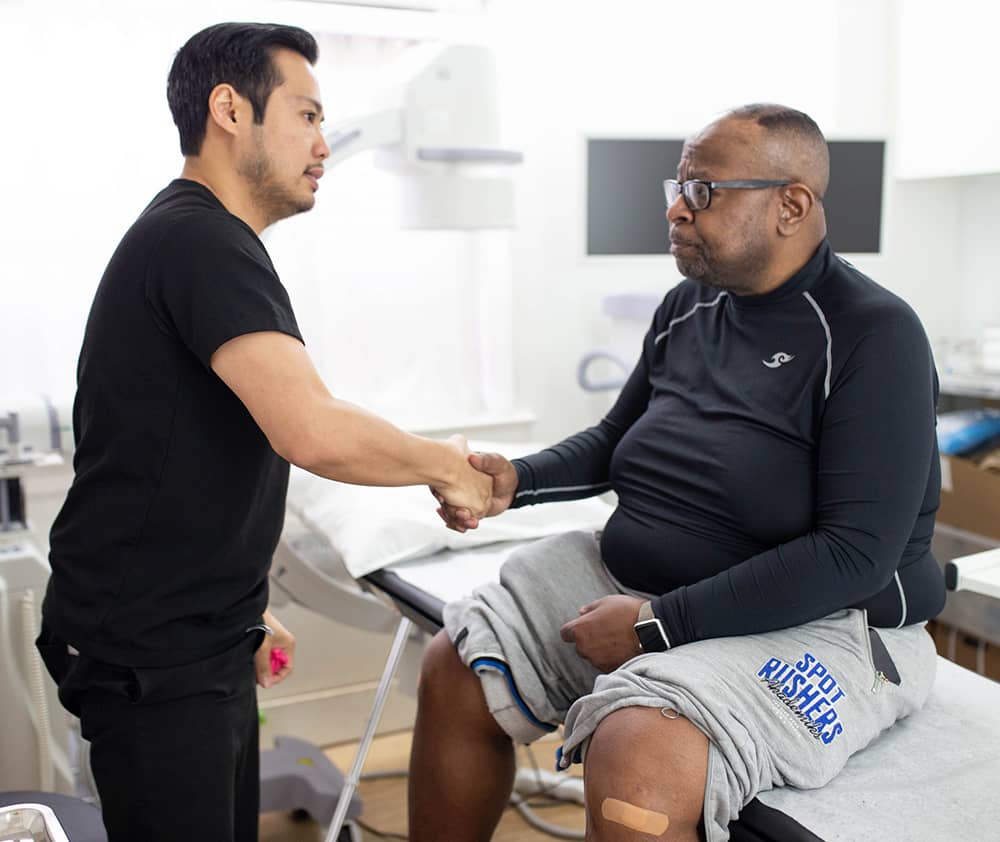 We offer free insurance verification! Fill out the form and expect a call from one of our agents:
Booking an appointment at Pain Treatment Specialists is another sure fire way to know that you're nailing adulthood! Our team of elbow treatment specialists are the best pain doctors in the nation, and provide effective elbow pain relief in a timely and painless process.
LEARN MORE ABOUT OUR TEAM OF SPINE & JOINT SPECIALISTS IN NEW YORK & NEW JERSEY:

Call us
Speak instantly with an agent to verify your insurance and book an appointment.
(866) 446-0946

Book Online
Visit our
Book appointment 
page
and instantly request an appointment at a Spine & Joint center near you. We offer Free Insurance Verification before your appointment.

Get Directions
Learn how to easily get to the Spine & Joint center locations.
FEATURED POSTS BY PAIN DOCTORS
How Does Physical Therapy for Back Pain Help You Feel Better?Once the spring weather begins to thaw winter's chill, a host of outdoor activities become accessible again. On a particularly balmy afternoon, you hit the links for a quick round of golf. Your body feels...
read more