What Does an Elbow Pain Treatment Doctor do for the Diagnosis and Treatment of Elbow Pain?
If you're feeling numbness and tingling in your fingers, this can be cause for alarm. That "pins and needles" sensation sometimes comes from sitting awkwardly or in a position where your arm's blood flow is impeded. Since your large, lumbering dog is on the other side of the couch, you know he's not responsible for causing your strange posture as you try to get comfortable around his massive haunches. You have, however, noticed elbow pain when lifting heavier objects this week, and wonder if the 2 are connected. This requires the expertise of an elbow pain treatment doctor for the proper diagnosis of your numbness and tingling.
At Pain Treatment Specialists, you can book an appointment easily at our state-of-the-art pain clinics in NYC or northern NJ. Home treatments such as resting and icing may provide some relief from pain and swelling, but getting to the root of your numbness and tingling requires a professional consultation with an elbow pain treatment doctor. From across the couch, you dog barks his approval. Ok, so he's just barking at a pedestrian outside, but this is still a nod of encouragement! Contacting a board certified pain doctor is the best method to find an effective solution for your elbow pain.
What Can I Expect When I Meet With an Elbow Pain Treatment Doctor?
There are many reasons why Pain Treatment Specialists is one of the best pain clinics in the nation. First, it's easy to make an appointment with an interventional pain doctor for the proper diagnosis and treatment of elbow injuries. You can book an appointment right through the website with our virtual assistant, or call our offices for the nearest location and available time slot. Before you arrive, our friendly and helpful customer service staff review your insurance coverage just to double check that you visit is covered. No worries there, as Pain Treatment Specialists accepts most major insurance carriers!
Next, when it's time for your appointment, you'll be quickly escorted back to our consultation area, which is thoroughly cleaned and sanitized between each patient.During your initial consultation with your elbow pain treatment doctor, you'll have a conversation about your medical history, pain levels, and overall history of elbow pain. Be honest and open with your pain doctor about your elbow pain, since this is critical to finding a proper treatment plan.
Your pain doctor will complete a physical examination and ask you to complete specific movements to see how your elbow reacts. It is possible that your elbow pain doctor may require further imaging to get a better picture of what's happening in your elbow. From here, your pain doctor uses their background in pain medicine and interventional pain management to create a customized treatment plan based on their expert diagnosis. You'll receive a thorough explanation of your next steps before leaving the pain clinic.
When you schedule an appointment at Pain Treatment Specialists, you'll meet with a kind and compassionate elbow pain doctor who knows how to get rid of your elbow pain with minimally invasive treatments.
What Kinds of Treatments Work Best for Elbow Pain?
​Depending on the type of elbow pain you have, your pain doctor may recommend a combination of treatments for your customized treatment plan. Not every elbow problem should be treated with the same solution, which is why meeting with an expert in interventional pain management is key. At Pain Treatment Specialists, all of our pain doctors are board certified, and have years of experience in the field of pain medicine. Here are some of the minimally invasive elbow pain treatments available at our cutting-edge pain clinics:
Physical Therapy: Elbow injuries such as tennis elbow are excellent candidates for physical therapy. During your PT sessions, your upper arm bone, elbow, and wrist are utilized in specific motions and exercises designed to promote strength and stability.
Steroid Injections: Have you ever heard the phrase "best bang for your buck?" That's exactly what steroid injections are! You receive a highly effective pain and inflammation treatment (a corticosteroid) through a relatively painless delivery (an injection) and you're instantly in less pain.
Viscosupplementation: During viscosupplementation, hyaluronic acid is injected into the elbow joints to supplement naturally-occurring hyaluronic acid. What is hyaluronic acid? It is the main component of joint fluid, which is lost due to normal wear and tear or degenerative diseases such as osteoarthritis. This minimally invasive treatment reduces friction, allows the elbow's joints to glide more smoothly, and provides additional cushion.
Your elbow problem won't resolve itself on its own with over the counter pain medicine, so why not contact an elbow pain doctor for professional advice? You can trust the board certified pain doctors at Pain Treatment Specialists for the best experience from start to finish for your elbow pain.
What Qualifications Should My Elbow Doctor Have?
First, your elbow doctor needs to be board certified in pain medicine or interventional pain management. This ensures that their focus is on minimally invasive treatment methods for your elbow pain, and not surgery. At Pain Treatment Specialists, all of our elbow pain doctors are board certified and Harvard trained pain experts including:
Dr. George Hanna: According to Google patient reviews, Dr. Hanna is "kind and extremely thorough with his explanations" and gives patients "hope for a better quality of life." This is due to Dr. Hanna's kind and gentle bedside manner, and depth of experience in pain medicine. He is the former Director of Pain Innovations and Technology at Harvard, is double board certified in pain management and interventional pain medicine, and regularly authors medical textbook chapters on pain medicine.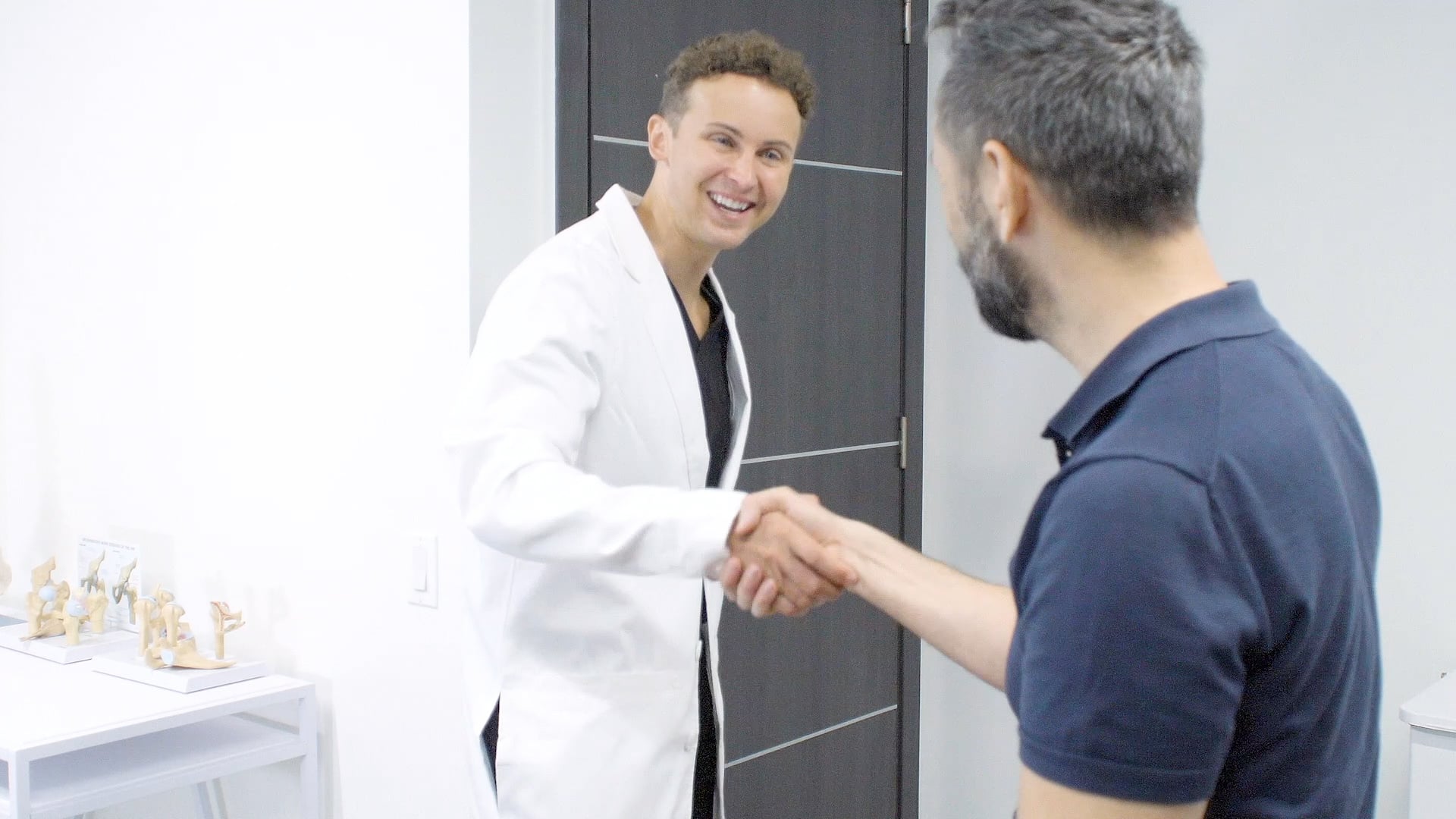 We offer free insurance verification! Fill out the form and expect a call from one of our agents:
When you have unexplained numbness and tingling in your arms or hands, don't ignore the issue! Book an appointment at Pain Treatment Specialists to find effective elbow pain relief with minimally invasive pain treatments administered by a team of board certified pain experts.
LEARN MORE ABOUT OUR TEAM OF SPINE & JOINT SPECIALISTS IN NEW YORK & NEW JERSEY:

Call us
Speak instantly with an agent to verify your insurance and book an appointment.
(866) 446-0946

Book Online
Visit our
Book appointment 
page
and instantly request an appointment at a Spine & Joint center near you. We offer Free Insurance Verification before your appointment.

Get Directions
Learn how to easily get to the Spine & Joint center locations.
FEATURED POSTS BY PAIN DOCTORS
How Does Physical Therapy for Back Pain Help You Feel Better?Once the spring weather begins to thaw winter's chill, a host of outdoor activities become accessible again. On a particularly balmy afternoon, you hit the links for a quick round of golf. Your body feels...
read more