Meet With a Harvard Trained Elbow Pain Treatment Doctor for Effective Pain Relief
Elbow pain tends to be something you can tolerate for a long period of time. It's certainly painful, but its daily effects don't appear as often as knee pain or back pain. It's only when you go to carry something heavy or need to support something with your arms that you're reminded of its presence. However, any amount of pain is too much to put up with on a daily basis! Just because you've become accustomed to elbow pain doesn't mean that you should put up with it for a minute longer. It's time to find an elbow pain treatment doctor who is able to return your arm bone, upper arm, and elbow back to full strength.
At Pain Treatment Specialists, our elbow doctors are Harvard trained pain management specialists. They focus on the diagnosis and treatment of elbow pain at their cutting edge pain clinics in NYC and northern NJ. Their minimally invasive elbow pain treatments provide long lasting and effective pain relief. Just because you're able to tolerate elbow pain doesn't mean that you have to! Schedule an appointment at Pain Treatment Specialists and receive the proper diagnosis and treatment for your chronic elbow pain.​
Who is a Top Elbow Pain Treatment Doctor Near Me?
When you begin looking for an elbow pain treatment doctor, make sure you're meeting with an interventional pain doctor. This type of elbow doctor receives additional training in pain medicine, which teaches doctors alternative methods of treatment that rely on minimally invasive pain treatments, and not elbow surgery. Elbow surgeons and orthopedic surgeons are trained to use elbow surgery as their primary method of treatment. This painful and invasive surgery can often be avoided with more conservative treatment methods. Some of the top elbow pain treatment doctors near me include:
Dr. George Hanna: Dr. Hanna is the former Director of Pain Innovations and Technology at Harvard, and is double board certified in anesthesiology, pain medicine, and pain management. He fellowship trained at Harvard in pain management at Brigham and Women's Hospital, and regularly contributes to medical textbooks and academic journals about the latest advances in pain medicine. Dr. Hanna is also known for his excellent bedside manner, and ability to carefully listen to patients' elbow pain concerns. His patients describe his bedside manner as warm, caring, and knowledgeable.
Dr. Laura Lombardi: Dr. Lombardi fellowship trained in interventional pain medicine at Harvard, and is also double board certified in pain medicine and anesthesiology. Dr. Lombardi's speciality is fluoroscopic guided pain treatments. This special x-ray allows her to target the specific area needed for elbow pain treatment, and provide concentrated and effective pain relief.
Dr. Lombardi and Dr. Hanna are just two of the Harvard trained pain experts at Pain Treatment Specialists. Book an appointment today with an elbow pain treatment doctor who has in-depth experience in pain management and anesthesiology.
What Does the Diagnosis and Treatment of Elbow Pain Look Like?
During your initial consultation at Pain Treatment Specialists, your elbow pain treatment doctor asks about your medical history, levels of activity, and times when you experience elbow pain. This helps your pain doctor narrow down the cause of your elbow pain, and then create a customized treatment plan that works for your specific pain concerns. Pain Treatment Specialists' cutting-edge pain clinics in NYC and NJ have a wide variety of minimally invasive pain treatments including:
Physical Therapy: Physical therapists work in conjunction with your elbow doctor to create a series of exercises and movements that build strength and increase your arm's range of motion. Physical therapy is highly effective for cubital tunnel syndrome, which is also known as ulnar nerve entrapment at the elbow.
Steroid Injection: A corticosteroid injection reduces pain and swelling in your elbow. Your elbow pain treatment doctor determines the location of your steroid injection, and then administers the shot. The area is treated with a topical anesthetic, and the shot itself incurs minimal pain.
Viscosupplementation: Hyaluronic acid is the key component of joint fluid, which decreases over time and due to underlying conditions like elbow osteoarthritis. Viscosupplementation injects hyaluronic acid into the elbow joints to facilitate the regeneration of this important lubricant.
When you make an appointment at Pain Treatment Specialists, you'll meet with an elbow pain treatment doctor who creates a customized elbow pain treatment plan just for you.
Can I Use Over The Counter Pain Relief for Elbow Pain?
Yes, using over the counter pain relief for elbow pain does provide temporary relief. Aspirin or ibuprofen are both great choices for keeping your elbow pain at bay. Pay attention to the dosing amounts, and do not exceed the recommended daily allotment. You should also let your elbow doctor know if over the counter medicines provided sufficient pain relief.
Combined with resting, icing, compressing, and elevating, over the counter pain medicines provide temporary pain relief. This series of steps is commonly abbreviated as "RICE", and when used in conjunction with over the counter pain medicines provides elbow pain relief. Rest your elbow from activities or motions that cause stress, weakness, or pain. For example, if you've got 18 holes of golf planned for the weekend, you might want to just cheer on your friends from the comfort of the golf cart. Ice your elbow in 20 minute intervals with an ice pack, or even a bag of frozen vegetables. You can alternate with a heating pad for additional pain relief. Compress your elbow with an arm brace or elbow brace to add additional support to your weakened elbow. Elevate your elbow with soft objects like a pillow to reduce swelling and increase blood flow.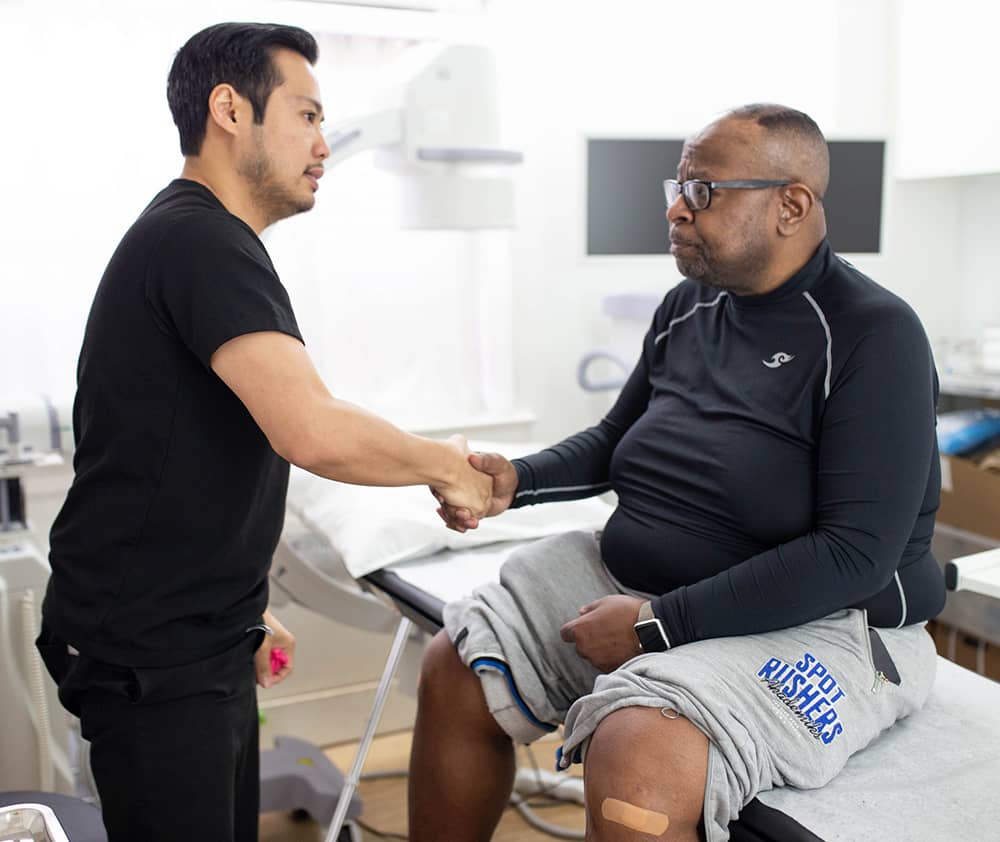 We offer free insurance verification! Fill out the form and expect a call from one of our agents:
You deserve to live your life to the fullest, and without experiencing frequent elbow pain. Kick elbow pain to the curb when you schedule an appointment at Pain Treatment Specialists, where an elbow pain treatment doctor has the expertise and tools to properly diagnose and treat your chronic elbow pain.
LEARN MORE ABOUT OUR TEAM OF SPINE & JOINT SPECIALISTS IN NEW YORK & NEW JERSEY:

Call us
Speak instantly with an agent to verify your insurance and book an appointment.
(866) 446-0946

Book Online
Visit our
Book appointment 
page
and instantly request an appointment at a Spine & Joint center near you. We offer Free Insurance Verification before your appointment.

Get Directions
Learn how to easily get to the Spine & Joint center locations.
FEATURED POSTS BY PAIN DOCTORS
How Do You Know When to See a Doctor for Back Pain?Getting ready for a warm weather vacation? Time to unpack your summer clothing bins and begin packing your bags. You head to the basement to begin sorting through swimsuits and tank tops, but are left stunned by the...
read more