What Can an Elbow Pain Dr. Do for Painful Swelling?
Stalking your home deliveries is close to a hobby when you're waiting for new goods to arrive. You occasionally receive updates on your phone about where your package is, and can't wait to open it up and unpack what's inside. When your box finally arrives, you excitedly open the front door and see the massive package on your doorstep. Bending over to pick up the parcel, your legs feel strong, but your arms begin to give out. Your elbow pain makes your arms feel unstable, and you barely move the package through your front door. This has been happening more frequently, and finding a quality elbow pain doctor is going to be the next thing you stalk on your phone.
While doing your research, you see that Pain Treatment Specialists offer minimally invasive elbow pain treatments for elbow injuries, tennis elbow, rheumatoid arthritis, and complex joint issues. You're not sure what your exact elbow pain condition is, but know that your painful swelling and elbow instability need expert advice about what to do next, When you book an appointment at Pain Treatment Specialists, you'll meet with an elbow pain doctor who is able to properly diagnose and treat your elbow pain and elbow injuries, and also provide effective pain relief.
Who is the Best Elbow Pain Dr. for Elbow Injuries?
Contacting a pain management specialist should be your first choice for resolving elbow pain. This is because an interventional pain doctor uses pain management treatments for elbow pain instead of painful and invasive surgery. Orthopedic specialists are useful for elbow injuries that require surgery, but are not as effective at pain management. Contacting the interventional pain doctors at Pain Treatment Specialists is the best way to find minimally invasive treatments for your hand and wrist, as well as your elbow pain. Our Harvard-trained elbow pain doctors include:
Dr. George Hanna: As a nationally recognized pain management specialist, Dr. Hanna is double board certified in anesthesiology, pain medicine, and interventional pain management. His expertise in pain management is utilized in textbooks as well as national medical conferences, where his colleagues seek his advice on the latest pain management techniques. Dr. Hanna is the former Director of Pain Innovations and Technology at Harvard, and is a leader in the field of interventional pain medicine treatments for elbows, shoulders, backs, and knees.
Dr. Laura Lombardi: Dr. Lombardi is a former Division 1 athlete who understands how chronic pain derails both your training schedule and your daily life. She is double board certified in pain medicine and anesthesiology, and like Dr. Hanna also regularly presents at national medical conferences. Her expertise is fluoroscopic-guided imagining treatments, which allows her to use a special x-ray that identifies the exact area of your elbow pain.
When you call your doctor at Pain Treatment Specialists, you'll find a team of pain management doctors including Dr. Hanna and Dr. Lombardi who are ready to meet your needs with minimally invasive treatments. After your initial appointment at one of our conveniently located pain clinics, you'll be on the path towards a pain-free life!
What Types of Treatments Are Effective for Painful Swelling?
Swelling in your elbow is not only unsightly, it's also extremely painful. It makes simple tasks like putting on your shirt difficult, and requires you to ask for assistance anytime you need to lift a heavy object. At Pain Treatment Specialists, we offer a variety of treatments that are effective for painful elbow swelling. Here, we'll outline what steroid injections, which are one of the most effective treatments for painful swelling.
One of the most conservative treatments for elbow swelling is a steroid injection, also known as a corticosteroid. This injection reduces inflammation caused by rheumatoid arthritis, elbow injuries, and other diseases. During this procedure, your elbow pain doctor determines the exact area for injection, and the site is sterilized with a liquid solution like alcohol. A rapid cooling topical anesthetic like ethyl chloride may also be used to numb the injection site. Next, the syringe is injected into the tissue and the corticosteroid is injected into the inflamed area. Once the needle is withdrawn, the injection area is covered with a bandage.
Some of the advantages of a corticosteroid injection are that it is far more effective than over the counter medicines like aspirin, and its anti-inflammatory effects are felt almost immediately. You'll feel minimal pain and discomfort, and be up and on your feet the same day. The procedure is completed right at our state of the art pain clinic, and pain relief lasts several weeks, or even months.
Can I Complete At Home Treatments for Elbow Pain Relief?
While at home treatments may provide temporary pain relief, you should still follow through with your elbow pain doctor at Pain Treatment Specialists. Our pain management specialists recommend the following at home elbow pain treatments:
RICE: This common acronym stands for "rest, ice compress and elevate." This series of anti-inflammatory steps reduces elbow pain and swelling when used together. First, rest your elbow from strenuous activities like heavy lifting. Ice your elbow to reduce swelling in 20 minute intervals and alternate with a heating pad to increase your range of motion. Compress your elbow with a bandage or brace to provide additional stability, and elevate your elbow with pillows whenever possible to reduce swelling.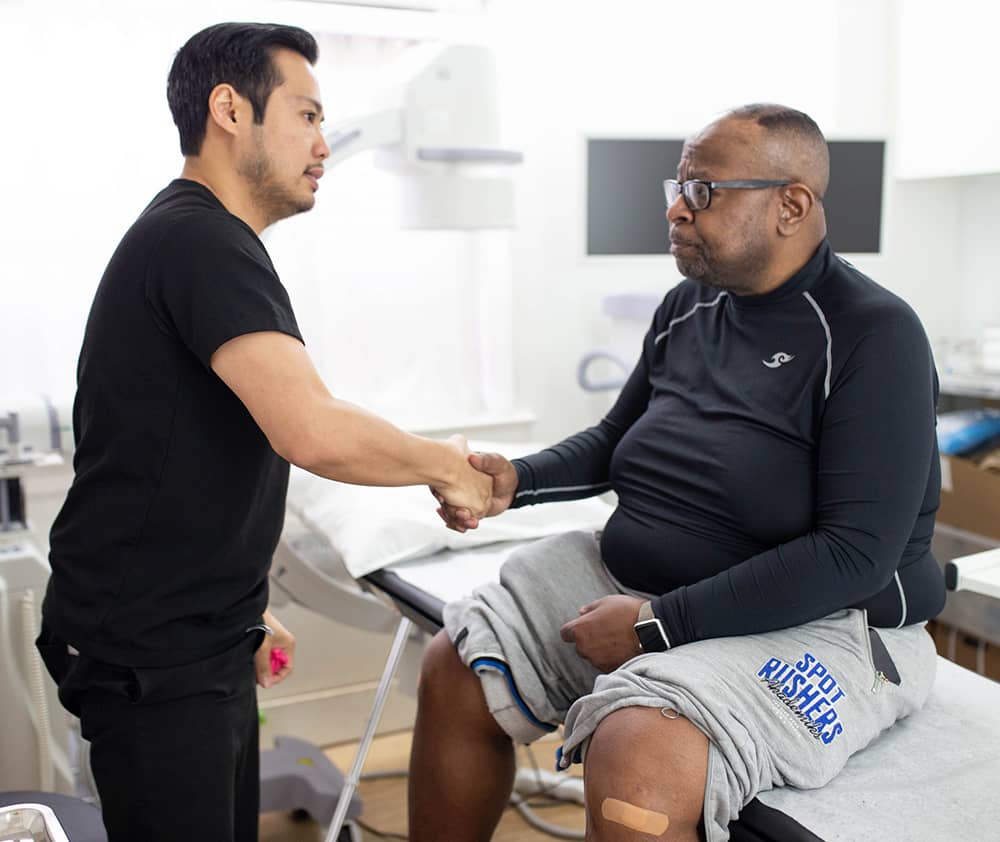 We offer free insurance verification! Fill out the form and expect a call from one of our agents:
OTC Pain Relief: Aspirin and motrin are fine for over the counter pain relief. Pay attention to the dosage instructions, and do not exceed the daily allotment.
Once you take care of your elbow pain, you'll be able to look forward to your next package delivery! Book an appointment at Pain Treatment Specialists and see how easy it is to find effective elbow pain relief at our state of the art pain clinics in NYC and northern NJ.
LEARN MORE ABOUT OUR TEAM OF SPINE & JOINT SPECIALISTS IN NEW YORK & NEW JERSEY:

Call us
Speak instantly with an agent to verify your insurance and book an appointment.
(866) 446-0946

Book Online
Visit our
Book appointment 
page
and instantly request an appointment at a Spine & Joint center near you. We offer Free Insurance Verification before your appointment.

Get Directions
Learn how to easily get to the Spine & Joint center locations.
FEATURED POSTS BY PAIN DOCTORS
How Does Physical Therapy for Back Pain Help You Feel Better?Once the spring weather begins to thaw winter's chill, a host of outdoor activities become accessible again. On a particularly balmy afternoon, you hit the links for a quick round of golf. Your body feels...
read more