Consult an Elbow Dr. for Effective Elbow Pain Relief
Remember the first time something went wrong with your car while you were driving? You likely panicked and tried to convince yourself that your wheels were not going to fall off and the engine was not going to explode into flames just because you heard a quick thump. Then, your first visit to a mechanic was likely littered with questions caused by your nervous reaction. Elbow pain and elbow injuries incite the same kind of panic. One day you're fine, and the next you can't pick up a light grocery bag without wincing in pain. Your next step is a frantic online search for answers. How do you know if you broke your elbow? Why does my elbow hurt when I extend it? When should you see a doctor for elbow pain? What doctor to see for wrist and hand pain? You know that you should consult an elbow doctor in your area, but aren't sure where to turn for answers.
Thankfully, the Harvard trained pain doctors at Pain Treatment Specialists are there to calm your fears. With a team of expertly trained interventional pain doctors, their pain clinics make you feel at ease from the moment you schedule an appointment and then throughout the course of your visit. Specializing in minimally invasive elbow pain treatments, the elbow doctors at Pain Treatment Specialists are able to properly diagnose and treat your elbow injuries and elbow pain. Don't let your worry get in the way of making an easy connection to Pain Treatment Specialists and finding long-lasting solutions for your elbow pain.
Who is the Right Elbow Dr. for Me?
An orthopedic doctor for elbow pain deals primarily with traumatic injuries to the elbow that require surgical intervention. The same criteria applies for a hand and bone specialist. If your elbow injury is severe due to an intense elbow injury, then this type of doctor is able to repair any broken bones or joints. However, most elbow injuries and elbow pain symptoms are not traumatic, and do not require surgical treatments. The elbow specialists at Pain Treatment Specialists focus on minimally invasive pain treatments for elbow pain, tennis elbow symptoms, and minor elbow injuries. Some of our highly rated pain specialists include:
Dr. George Hanna: Dr. Hanna is double board certified in anesthesiology, pain medicine, and interventional pain management. He is a former Clinical Instructor at Harvard in anesthesiology and served as Chairman of Anesthesiology and Pain Medicine at Chilton Medical Center. In addition to his impressive background in pain medicine and anesthesiology, Dr. Hanna is also highly-rated by his patients who call him "brilliant" and has "excellent communication skills."
Dr. Laura Lombardi: Dr. Lombardi is double board certified in pain medicine and anesthesiology, and as a former Division 1 athlete understands how chronic pain derails your training schedule. She is expertly trained in fluoroscopic-guided elbow pain treatments, which is a special technique that allows her to precisely pinpoint the exact area for elbow pain treatment. Her patients describe her as "personable" and that she "knows what she's talking about."
Dr. Lombardi and Dr. Hanna are just 2 of the Harvard trained pain doctors at Pain Treatment Specialists who are happy to meet and discuss your elbow pain concerns. Book an appointment at one of our pain clinics in NYC or northern NJ and begin the journey towards eliminating elbow pain from your life.
How Does an Elbow Dr. Treat Elbow Pain?
When you finally realize that, "I hurt my elbow!", you might fear that visiting an elbow surgeon  is going to be your only option for elbow pain relief. Thankfully, there are a wide variety of minimally invasive treatments for tennis elbow symptoms, sprained elbows, elbow injuries, and hand and wrist pain that do not involve surgical treatments.  At Pain Treatment Specialists, you'll receive both the diagnosis and treatment of your elbow pain from one of our expert elbow specialists. You'll find cutting-edge pain treatments including:
Steroid Injections: This is one of the most conservative treatments for elbow pain available at our pain clinics. Your elbow doctor sterilizes the site for injection, and also uses a topical anesthetic if desired. A corticosteroid solution is drawn into a syringe, and injected into your tissue. The corticosteroid's effects should be felt quickly, as it reduces pain and swelling in your elbow.
Viscosupplementation: This treatment is also known as a hyaluronic acid injection, which is the main component of joint fluid. When your elbow's joint fluid decreases either due to wear and tear or osteoarthritis, you'll feel a grinding sensation as your elbow joint struggles to move fluidly. This injection is administered directly into your elbow joint, and not the surrounding tissues. After a few minutes, the process is complete and your elbow has a greater range of motion with reduced pain.
What pain treatment is right for you? Book an appointment at Pain Treatment Specialists and meet with one of our highly-qualified elbow specialists for effective pain relief.
What are Common Elbow Pain Conditions?
During your initial consultation at Pain Treatment Specialists, your elbow doctor thoroughly explains the cause of your elbow pain. Elbow osteoarthritis is a degenerative condition that causes a breakdown of your cartilage. When this cartilage wears away, your bones rub together and produce joint pain. Elbow tendonitis appears in a few different forms, depending on where your elbow aches. Tennis elbow features pain on the outside of your elbow, and golfer's elbow is pain on the inside of your elbow. Olecranon bursitis occurs when excess fluid collects in a sac (bursae) behind the elbow. If you have a painful lump in the arm near the elbow, it may be a sign of this condition.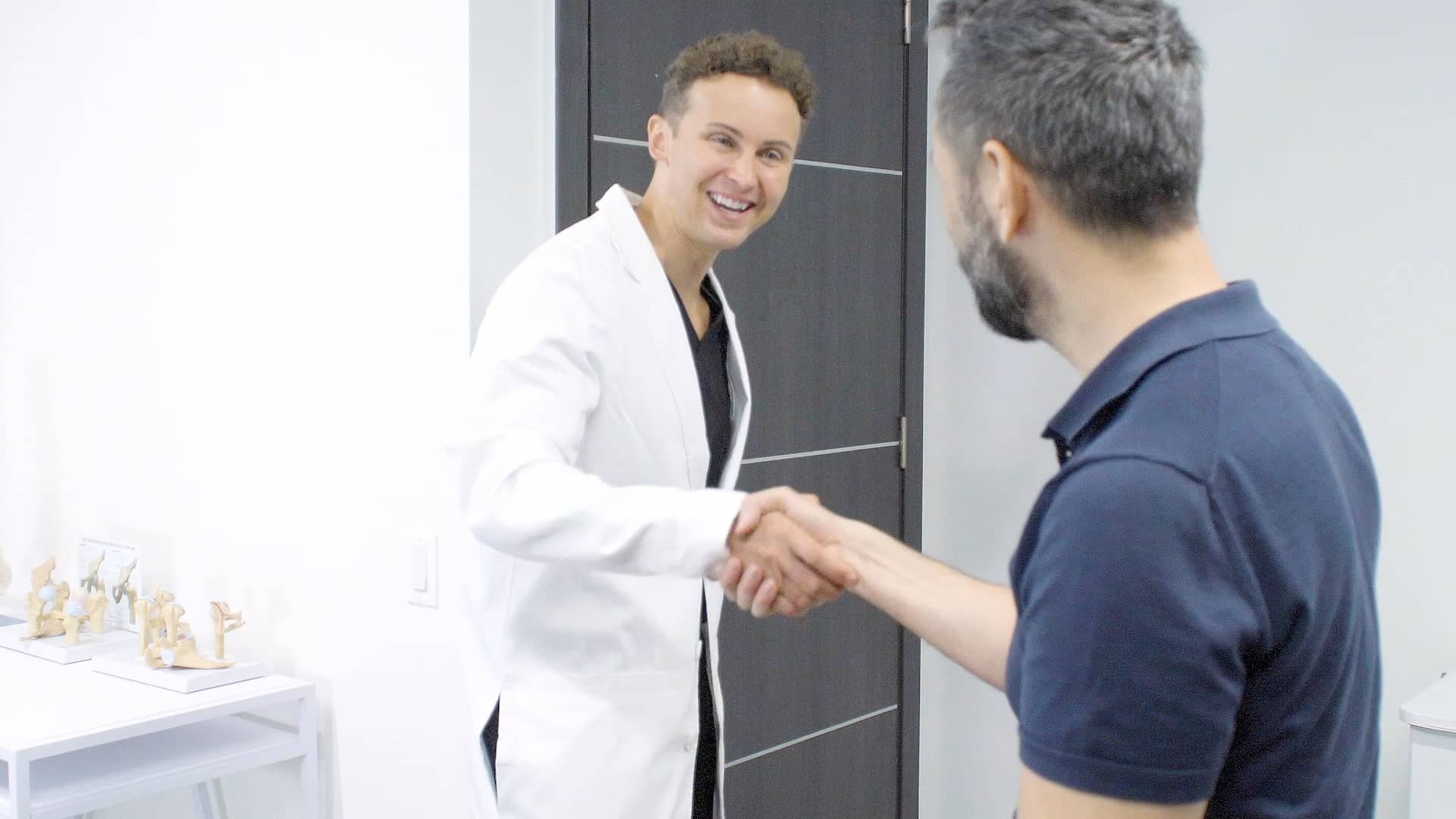 We offer free insurance verification! Fill out the form and expect a call from one of our agents:
No matter the cause of your elbow pain, the elbow pain experts at Pain Treatment Specialists treat your elbow pain with minimally invasive pain treatments. Make an appointment at one of our pain clinics in NYC or northern NJ and find some peace, and not panic, about the source of your elbow pain.
LEARN MORE ABOUT OUR TEAM OF SPINE & JOINT SPECIALISTS IN NEW YORK & NEW JERSEY:

Call us
Speak instantly with an agent to verify your insurance and book an appointment.
(866) 446-0946

Book Online
Visit our
Book appointment 
page
and instantly request an appointment at a Spine & Joint center near you. We offer Free Insurance Verification before your appointment.

Get Directions
Learn how to easily get to the Spine & Joint center locations.
FEATURED POSTS BY PAIN DOCTORS
How Do You Know When to See a Doctor for Back Pain?Getting ready for a warm weather vacation? Time to unpack your summer clothing bins and begin packing your bags. You head to the basement to begin sorting through swimsuits and tank tops, but are left stunned by the...
read more