Consult an Elbow Doctor for the Proper Diagnosis and Treatment of Elbow Pain
You don't realize how often you need your elbows until one of them is painful and swollen. Elbows allow your hands to reach whatever you need, like your keyboard, mailbox, and even reaching for the laundry detergent to do a load of wash. When you're experiencing elbow pain, even these small tasks seem monumental. Once your elbow pain interferes with your daily activities, you begin to ask a lot of questions. When should you see a doctor for elbow pain, and is there a doctor for elbow pain near me who won't suggest surgery as a solution? You also find yourself searching online for "what doctor to see for wrist pain", "orthopedic arm specialist near me", "what doctor to see for wrist and hand pain", and "hand bone specialist", and are confused by the onslaught of information.
At Pain Treatment Specialists, you'll find clarity, confidence, and compassion from our Harvard trained interventional pain doctors. Our elbow doctors are experts in pain medicine, which uses minimally invasive pain treatments for your elbow injury and elbow pain, and not surgery. Our pain doctors are not elbow surgeons or orthopedic specialists, but rather pain management doctors who are the top elbow pain doctors near me. When you book an appointment at Pain Treatment Specialists, you're making the first step towards getting rid of your elbow pain for good.
What Qualifications Should I Look for in an Elbow Doctor?
An orthopedic doctor for elbow pain and a hand and wrist Dr. are two types of doctors who are trained to use surgery as a solution for elbow pain. Elbow surgery is not only invasive, but it also can often be avoided by using more conservtaive pain treatments. At Pain Treatment Specialists, our elbow doctors are pain management specialists who focus on using minimally invasive treatments for pain and swelling in your hand, wrist, and elbow. These types of pain treatments provide effective relief from pain and swelling for weeks, if not months. Here are a few of our interventional pain doctors found at our pain clinics in NYC and northern NJ:
Dr. Laura Lombardi: Dr. Lombardi completed her interventional pain medicine fellowship at Harvard, where she focused on fluoroscopic-guided pain treatments. This special type of x-ray allows her to locate the exact area of your elbow pain and provide targeted treatments. Dr. Lombardi is also double board certified in anesthesiology and pain medicine who regularly presents at national medical conferences on these topics. Her expertise is valued by both her colleagues, and the patients at her pain clinic.
Dr. Geroge Hanna: Dr. Hanna is a former Clinical Instructor at Harvard Medical School in anesthesiology. This was followed by a position as Director of Pain Innovations and Technology, also at Harvard, and Chairman of Anesthesiology and Pain Management at Chilton Medical Center. In addition to this wealth of experience in pain medicine, Dr. Hanna is also excellent at making his patients feel at-home in his pain clinic. One patient calls Dr. Hanna "the best" and that he's "given me hope for a better quality of life."
When you book an appointment at Pain Treatment Specialists, you'll meet with Dr. Lombardi, Dr. Hanna, or another member of our outstanding team.
What are Tennis Elbow Symptoms?
Tennis players aren't the only people affected by tennis elbow, which refers to pain on the outside of your elbow. People who complete repetitive motions of the wrist and forearms, like a contractor tightening screws all day, may also suffer from tennis elbow. The medical name for tennis elbow is "lateral epicondylitis", and occurs when the tendons of your forearm are strained from a repetitive motion. Some of the symptoms of tennis elbow include:
Sore forearm muscles
Pain and tenderness on the outside of your elbow
Feeling stiffness in your elbow, especially in the morning
Pain that worsens when you grip an object
If you're suffering from tennis elbow symptoms, you don't need to search online for a "tennis elbow specialist near me" or "how to complete a tennis elbow test." Instead, you'll find the proper diagnosis and treatment of your elbow pain at a pain management doctor, like the ones found at Pain Treatment Specialists. At their state of the art pain clinics, your elbow doctor is able to complete a physical examination of your elbow, and identify the source of your elbow pain. Then, your pain doctor creates a customized treatment plan for your elbow pain. Physical therapy is commonly used to help alleviate pain and swelling due to tennis elbow. During physical therapy sessions, your physical therapist uses strength and weight training, stretches, and heat and cold therapy to reduce your swelling and also build strength in your affected elbow.
If you're suffering from tennis elbow symptoms, or any other elbow pain, schedule an appointment at Pain Treatment Specialists and begin a customized treatment plan that provides real relief from your elbow pain.
​What Does the Diagnosis and Treatment of Elbow Pain Look Like?
When you first call Pain Treatment Specialists, you'll be linked with a personal concierge who ensures that your insurance covers your appointment, and also books a convenient time for your initial appointment. On the day of your appointment, you'll be greeted by our friendly patient service coordinators who check you in, and ensure that your wait time is minimal. You'll next be escorted into our patient treatment area, where you'll meet with one of our Harvard trained pain doctors. All of our doctors are kind, knowledgeable, and easy to talk to about your elbow pain. Take your time and ask as many questions as you want while describing your pain, which is then followed by a physical examination. Next, your elbow doctor diagnoses your elbow pain, and outlines your customized treatment plan that includes minimally invasive treatments. Physical therapy, steroid injections, and viscosupplementation are all potential treatments that are conservative, yet effective at long-lasting pain relief. When you leave the pain clinic, you'll have a clear road map of your next steps towards a pain-free life.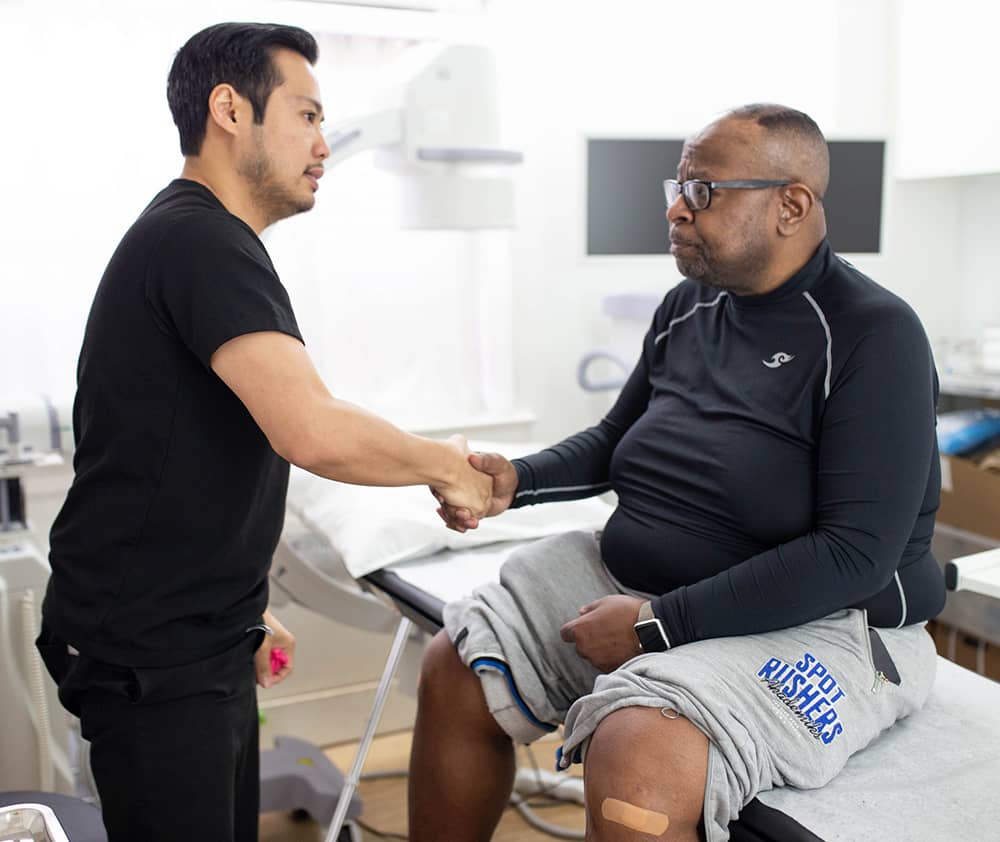 We offer free insurance verification! Fill out the form and expect a call from one of our agents:
Schedule an appointment at Pain Treatment Specialists, where you'll feel better about resuming your normal activities after your first visit. You've enjoyed having a break from doing the laundry on your own, but getting back to a pain-free life is much more enjoyable!
LEARN MORE ABOUT OUR TEAM OF SPINE & JOINT SPECIALISTS IN NEW YORK & NEW JERSEY:

Call us
Speak instantly with an agent to verify your insurance and book an appointment.
(866) 446-0946

Book Online
Visit our
Book appointment 
page
and instantly request an appointment at a Spine & Joint center near you. We offer Free Insurance Verification before your appointment.

Get Directions
Learn how to easily get to the Spine & Joint center locations.
FEATURED POSTS BY PAIN DOCTORS
How Does Physical Therapy for Back Pain Help You Feel Better?Once the spring weather begins to thaw winter's chill, a host of outdoor activities become accessible again. On a particularly balmy afternoon, you hit the links for a quick round of golf. Your body feels...
read more