What Can Back Specialists Do For Chronic Pain?
Chronic pain is often misunderstood by people who don't directly suffer from it. On the outside, you may look perfectly fine. But on the inside, you just want to crawl into bed with a heating pad and not emerge for weeks. It's difficult for people to sympathize with pain that they can't "see", so reaching for a different explanation is easy.
"You're lazy."
"You're just being a baby."
"You don't really like me and that's why you don't want to hang out."
The truth is, your back pain is so crippling that just getting up to take a shower every morning is a monumental feat. However, you don't have to live your life in constant agony from your neck pain, back pain, or spine condition. Contact the Harvard trained pain doctors at Pain Treatment Specialists and see how our board certified pain doctors use minimally invasive back pain treatments that really work. You'll notice such a difference in your day-to-day activities that you'll really feel like you're regaining your independence and freedom– as well as your old life.
Who Are the Best Back Specialists for Me?
Meeting with a pain management specialist is the best way to treat chronic back pain. Family doctors and primary care physicians are great when you need general medical advice, but treating back pain requires specialized training. The board certified back specialists at Pain Treatment Specialists use varied treatments for chronic back pain that address your specific pain concerns. All of our Harvard trained back pain doctors have extensive training in minimally invasive back pain treatments, as well as interventional pain medicine. Their goal is getting patients back to a pain free life without back surgery or narcotics. Some of the top back specialists for your back pain include:
Dr. George Hanna: Dr. Hanna's resume is as impressive as it gets. If you're looking for a top back specialist, Dr. Hanna is a former Clinical Instructor at Harvard Medical School, where he instructed medical students about anesthesiology and pain medicine. Later, he was appointed as Director of Pain Innovations and Technology at Harvard, and then Chairman of Anesthesiology and Pain Management at Chilton Medical Center. Dr. Hanna is a leader in the field of pain medicine, and uses this expertise to find the right back pain treatment for you.
Dr. Micheal Nguyen: Not only is Dr. Nguyen certified by the American Board of Anesthesiology in Pain Medicine, he is also a pioneer of many of the pain treatments used for chronic back pain. Dr. Nguyen is well-respected in the field of pain medicine, and often has his colleagues from across the country observe his cutting-edge treatments and patient relationships.
If you're suffering from chronic pain, it's time to schedule an appointment with the top back specialists at Pain Treatment Specialists. With pain clinics located in midtown Manhattan and northern New Jersey, our back pain doctors are the best choice to treat your chronic pain.
What Can a Back Specialist Do For Chronic Pain?
A back specialist, like the pain doctors at Pain Treatment Specialists, are trained in interventional pain medicine. This means that they spend the careers studying, practicing, and perfecting minimally invasive back pain treatments. Our back pain doctors do not rely on surgery, and know that the best road to recovery involves highly-effective back pain management. Some of the back pain treatments offered at our pain clinics include:
Physical Therapy: A physical therapist is trained in exercise science and physiology, which gives them the expertise to create a customized back pain exercise plan. Your physical therapist tailors movements, strength-building exercises, and flexibility into your treatment plan depending on your specific back pain issues.
Lumbar Radiofrequency Ablation: This high-tech tool uses heat energy to treat chronic back pain in nerve endings. Lumbar radiofrequency ablation uses electromagnetic waves that travel at the speed of light and block pain signals from traveling to your facet joints.
SI Joint Injection: Also known as a sacroiliac joint block, this back pain treatment is used to diagnose and treat sciatica and lower back pain. Your back pain doctor uses a fluoroscopic-guided x-ray to inject a local anesthetic into the sacroiliac joint. If you feel pain relief, then it confirms that this was the issue of your lower back pain.
Book an appointment at Pain Treatment Specialists, where our expert pain doctors use one of the above minimally invasive back pain treatments to alleviate your chronic pain. The best part? You'll be up and back on your feet quickly.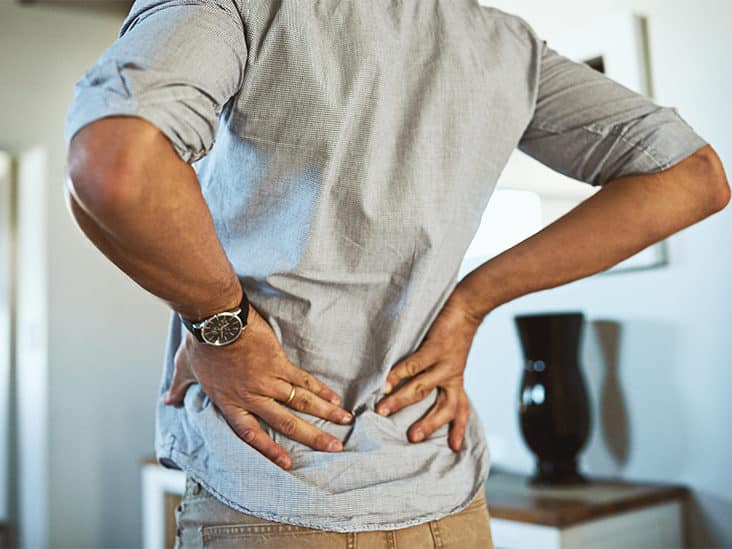 We offer free insurance verification! Fill out the form and expect a call from one of our agents:
How Can I Describe Chronic Pain and Neck Pain?
Describing chronic pain is often a difficult task. When you live with this pain on a daily basis, your neck pain, back pain, and spine condition are simply part of your daily routine. You are constantly adjusting your movements and activities to fit your pain levels, and finding the words to describe what you're feeling might be tough. The back specialists at Pain Treatment Specialists recommend using the following tips for describing chronic pain during your consultation:
Write Down Your Day: Think of this log like a pain diary. For a few days or weeks before your visit, outline how much pain you're in throughout the day. Is your back in excruciating pain when you wake up, but becomes more limber after a hot shower? Do certain motions hurt more than others? Writing down these checkpoints during the day helps your back pain doctor identify your chronic pain cause.
Assign a Number to Your Pain: On a 1-10 pain scale, with 1 being minimal and 10 being unbearable, write down how much pain you're feeling in your pain diary. If you wake up and your back feels like an 8 (OUCH!) but goes down to a 3 after a hot shower (aaahhh!) that's an important distinction.
One of the most important reasons to schedule an appointment at Pain Treatment Specialists is that our pain doctors listen to, and believe, your chronic pain. Know that our back pain doctors understand chronic pain, how to treat it, and the best way to get you back to the activities you love!
LEARN MORE ABOUT OUR TEAM OF SPINE & JOINT SPECIALISTS IN NEW YORK & NEW JERSEY:

Call us
Speak instantly with an agent to verify your insurance and book an appointment.

Book Online
Visit our Book appointment page and instantly request an appointment at a Spine & Joint center near you. We offer Free Insurance Verification before your appointment.

Get Directions
Learn how to easily get to the Spine & Joint locations. 
FEATURED POSTS BY PAIN DOCTORS
How Do You Know When to See a Doctor for Back Pain?Getting ready for a warm weather vacation? Time to unpack your summer clothing bins and begin packing your bags. You head to the basement to begin sorting through swimsuits and tank tops, but are left stunned by the...
read more