Getting chores done around the house isn't the most glamorous way to spend your time, but it gives you a great feeling of satisfaction when you're done. You grab your mop bucket and head out to the garage, ready to wash away the layer of grime and dirt that's built up. It's a big space, and you know that this task is going to take a little while. You diligently hunch over the mop, re-fill the bucket with clean water, and slowly work your way across the floor. Standing upright after your last swipe, your back freezes. Your garage floor looks great, but you're in bad shape. Off to the couch for the remainder of the day, Mr. Clean.
Back pain can happen after repetitive motions like mopping, from chronic conditions like arthritis, or acute conditions like car accidents. How do you know if your back injury is serious? The only way to find out is visiting a spine doctor for professional medical advice. During your time on the couch, you begin searching for a top back doctor near me. Your results reveal "spine surgery San Antonio", "back pain doctor San Antonio", "back specialist NYC" and "best back pain doctor NYC." Since you're located in the tri-state area, you choose the links related to NYC. Pain Treatment Specialists appears on every list related to "best back pain specialists NYC." Looking at their patient reviews, it's clear that this Harvard trained team of board certified back doctors are going to be your next phone call of the day.
Who is the Best Back Specialist in NYC?
At Pain Treatment Specialists, every back pain doctor on our staff is carefully chosen for both their qualifications and their patient relationships. When you're searching for a back pain doctor in NYC, not every spine specialist is the same. Primary care physicians are great for general health concerns, but do not have the training needed to properly diagnose and treat your back pain. Orthopedic surgeons recommend back surgery as the best option for back pain relief, which is both invasive and not always necessary. At Pain Treatment Specialists, our back doctors in NYC are interventional pain management doctors. This means that they are well-trained in your back's structure and anatomy, as well as how to treat your back pain with minimally invasive treatments. Some of the best back pain doctors in NYC include.
Dr. Shane Volney: Dr. Volney is a back specialist who completed his pain management fellowship at The Massachusetts General Hospital–Harvard Medical School. He is also a former Clinical Instructor at Harvard Medical School, where he taught pain medicine, palliative care, and anesthesiology. Dr. Volney brings his expertise in pain management to Pain Treatment Specialists, where he is known for listening carefully to patients and being sympathetic to their back pain issues.
Dr. Michael Nguyen: Dr. Nguyen is not just one of the best back pain doctors in NYC, he is a nationally recognized leader in the field of pain medicine. Dr. Nguyen pioneered many of the interventional pain treatments currently used by his colleagues across the world, and is regularly asked to speak at national medical conferences about how to provide the best minimally invasive back pain treatments.
Dr. Volney and Dr. Nguyen are two of the back specialists you'll find at Pain Treatment Specialists. Book an appointment today at our pain clinics in NYC and NJ and meet with our top team of back pain doctors.
What is the Most Effective Back Pain Treatment in NYC?
The back specialists at Pain Treatment Specialists agree that the best back pain treatments do not involve invasive surgery or addictive narcotics. As spine specialists, the back pain doctors at Pain Treatment Specialists devote their careers to finding minimally invasive and cutting-edge pain treatments that effectively eliminate back pain. During your initial consultation, your back pain doctor outlines your specific back pain condition, and creates a customized pain treatment program. Your back pain treatment in NYC might include:
Physical Therapy: A physical therapist helps people who are in pain return to the activities they love through exercise and rehabilitation. Your back pain doctor in NYC works in conjunction with a physical therapist to create a series of movements and strength-building exercises for your back that increase flexibility and mobility.
Lumbar Facet Injection: Your facet joints are located at each segment of your spine, and provide your back with stability and flexibility. When a facet joint becomes inflamed, it creates a great deal of pain. A lumbar facet injection uses a local anesthetic injection in the facet joints to provide back pain relief.
SI Joint Injection: Your sacroiliac joints absorb the force of your upper body before redistributing that weight to your hips and legs. Since they are key shock absorbers in the lower back, when they are irritated it creates intense pain. An SI joint injection uses a local anesthetic to provide pain relief in your affected sacroiliac joint.
Your back pain doctor in NYC uses their training and expertise in anesthesiology and pain management to treat back pain with effective, long-lasting results. Schedule an appointment at Pain Treatment Specialists to begin a discussion about which minimally invasive back pain treatment is right for you.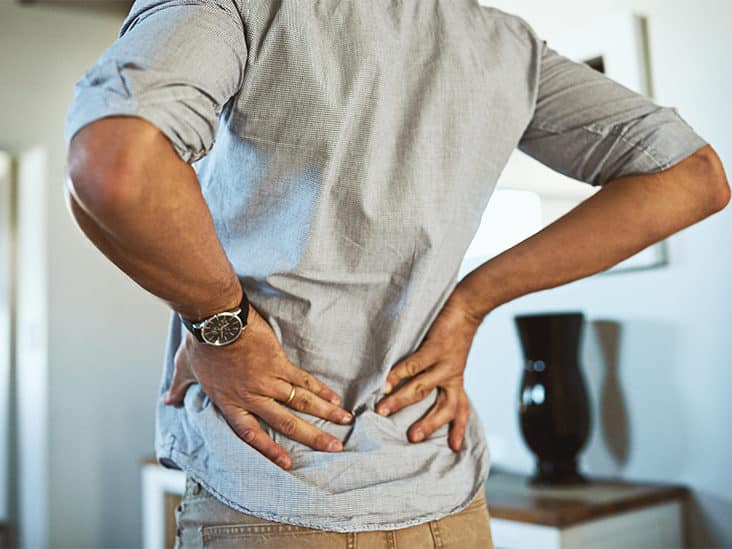 We offer free insurance verification! Fill out the form and expect a call from one of our agents:
What Does a Back Doctor Recommend for At-Home Chronic Pain Treatments?
Treating your chronic pain with at-home remedies provides temporary pain relief, but it does not address the underlying causes of your back pain. You should still meet with a back doctor in NYC, but there are ways for you to find relief before your visit. Our back specialists recommend the following at-home back pain treatments:
1. Follow the four-step acronym called RICE. This procedure is commonly used by athletes for treating soreness, and is an effective way to reduce pain and swelling. Rest your back when it feels sore, and try to avoid activities that involve a lot of bending or lifting. Ice your back in 20 minute sessions with an ice pack, and alternate with a heating pad if desired. Compress your back with an athletic bandage or back brace to help provide additional support. Elevate your back when sitting or laying down with pillows.
2. Gentle exercise like yoga, swimming, and tai chi are all great for keeping your back active and flexible. They are also excellent ways to lift your spirits, especially when you're feeling down about your chronic pain.
3. Over the counter medicines are fine for pain relief, but pay attention to dosing amounts. Do not exceed the recommended amount in a 24-hour period, as this puts undue stress on your kidneys and liver.
4. Weight loss never hurts! The less weight you carry, especially around your belly, puts less stress on your back.
Get back to living your life after scheduling an appointment at Pain Treatment Specialists. With locations in NYC and northern NJ, our pain clinics are staffed with back specialists who are experts in back pain relief.
LEARN MORE ABOUT OUR TEAM OF SPINE & JOINT SPECIALISTS IN NEW YORK & NEW JERSEY:

Call us
Speak instantly with an agent to verify your insurance and book an appointment. (866) 446-0946

Book Online
Visit our Book appointment page and instantly request an appointment at a Spine & Joint center near you. We offer Free Insurance Verification before your appointment.

Get Directions
Learn how to easily get to the Spine & Joint center locations.
FEATURED POSTS BY PAIN DOCTORS
How Does Physical Therapy for Back Pain Help You Feel Better?Once the spring weather begins to thaw winter's chill, a host of outdoor activities become accessible again. On a particularly balmy afternoon, you hit the links for a quick round of golf. Your body feels...
read more