How a Top Back Pain Specialist Doctor Near Me Treats Chronic Back Pain
It doesn't take much to aggravate chronic back pain. Sometimes just reaching down to wipe your dog's muddy paws is enough to make your lower back howl with pain. This type of sharp, shooting back pain interferes with the rest of your day, and forces you to alter your plans. Your back pain has been increasing with intensity and frequency recently, and you realize that it's time to meet with a pain doctor who can find the root cause of your pain. You begin by searching for a back pain specialist doctor near me" and see that Pain Treatment Specialists appears as a highly-rated pain clinic.
What sets Pain Treatment Specialists apart from other back pain doctors in NYC? First, their team of Harvard-trained pain doctors are experts in interventional pain medicine. This means that they will not advise surgery unless medically necessary, and instead utilize minimally invasive treatments for pain. When you book an appointment at their state-of-the art pain clinics, you'll immediately feel at ease with their professional, compassionate, and knowledgeable pain doctors. No one should spend their days living with back pain, which is why scheduling an appointment at Pain Treatment Specialists helps patients get back to a pain-free life.
What is an Appointment Like at a Back Pain Specialist Doctor Near Me?
When you do an online search for a "back pain specialist doctor near me", you might not know what to expect during your appointment. At Pain Treatment Specialists, we know that living with chronic back pain is exhausting, which is why our entire organization strives to make your visit as seamless and pleasant as possible.
During your initial contact with our front-end staff, you're paired with a personal concierge who verifies your insurance information and schedules appointments that work within your busy schedule. When you arrive at our sparkling clean pain clinics, you'll be warmly greeted by our front-end staff, who ensure that your wait is brief before entering our private consultation area. This is where you'll meet with Dr. Lombardi, Dr. Hanna, Dr. Deygoo, or Dr. Volney to discuss your back pain concerns. You'll have plenty of time to discuss your pain problems and ask questions regarding your next steps. If needed, your board certified back pain doctor orders additional images to verify the source of your back pain. Finally, a customized treatment plan is created based on your specific back pain condition. Your pain specialist matches you with the most conservtaive treatments first to see if you experience relief from your chronic back pain issues. Finally, your personal concierge sets up your additional appointments for back pain treatments.
Beginning online research about your back pain requires you to ask a lot of questions such as "What kind of doctor for joint pain?" and "pain management doctors near me." The best answer for both of these questions is Pain Treatment Specialists, with locations in NYC, Long Island, and northern NJ. As the top back doctors in NYC, you'll receive the best customized care for your back pain.
How Can a Back Specialist in NYC Treat Chronic Back Pain?
A back specialist is also an excellent neck pain doctor as well. Since your back and neck work together, many of these conditions share similar causes. At Pain Treatment Specialists, we focus on finding the cause of your back pain, and treating it with minimally invasive treatments. Chronic back pain is easily treated with nerve blocks, physical therapy, or steroid injections.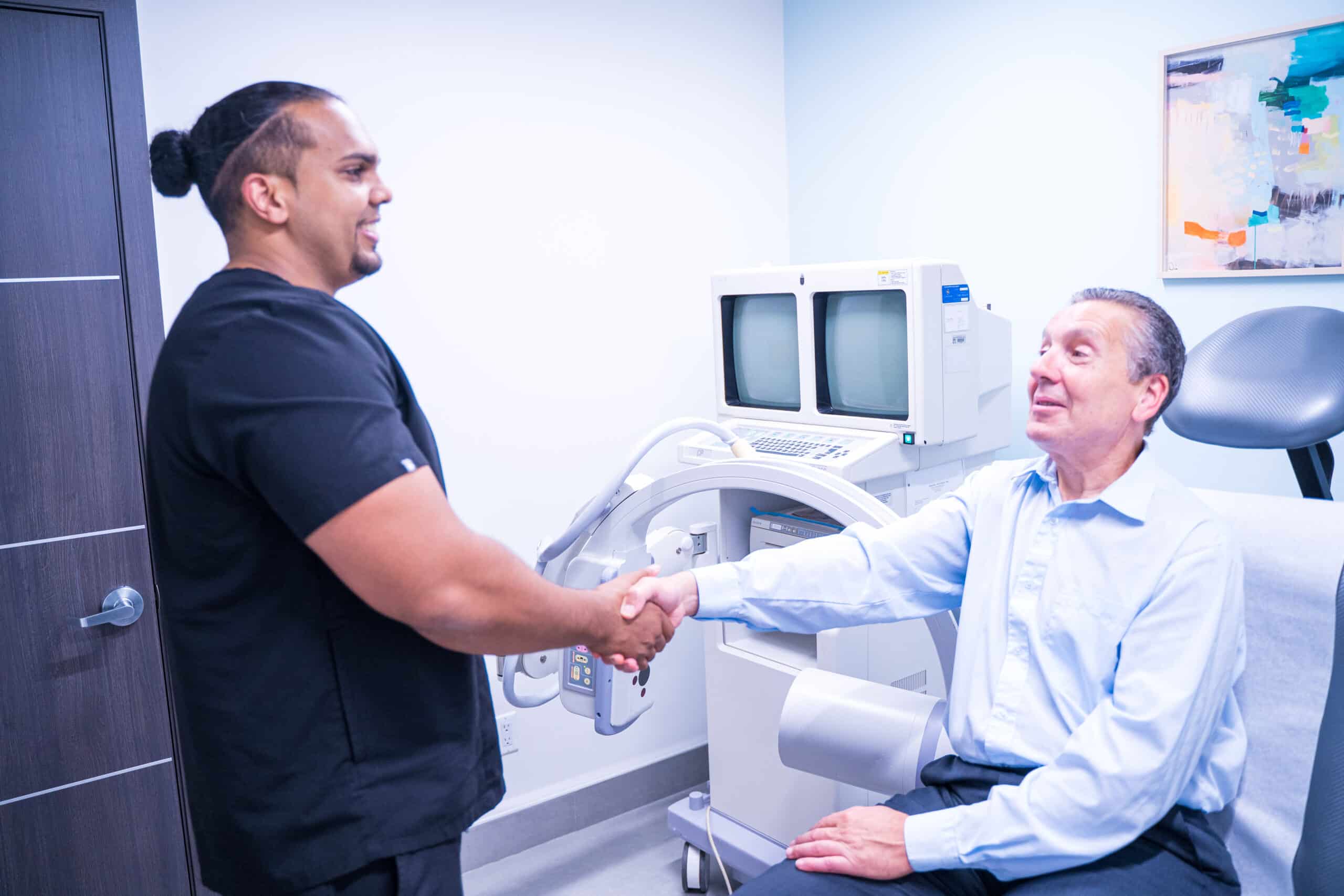 We offer free insurance verification! Fill out the form and expect a call from one of our agents:
Trigger Point Injections: A corticosteroid injection is a powerful anti-inflammatory medicine, and when combined with a local anesthetic it relaxes sore, tense muscle groups. Your back pain doctor identifies the exact area for injection, and then administers the shot. There is no downtime for this procedure, and you'll feel immediate pain relief.
Radiofrequency Ablation: This cutting-edge procedure uses geothermal energy to deactivate the nerves that provide sensation to the facets joints in your spine. These joints often develop painful arthritis, and this procedure reduces pain and swelling in your lower back.
Physical Therapy: Many of our treatment plans utilize physical therapy in addition to a non-surgical pain treatment. Your physical therapist uses a variety of stretches, heat and cold therapies, and exercises to increase your back's strength and flexibility. Physical therapy is effective for back pain treatment, as well as knee pain treatment.
Your expert pain doctor at Pain Treatment Specialists diagnoses and treats your back pain with a variety of modalities designed to make your back feel better.
Why Should I Avoid Back Surgery as a Pain Treatment?
Back surgery is invasive and completely alters your life. You'll need to have surgery in a hospital, which requires an overnight stay. If there are no complications, you'll then need to recover in a rehabilitation facility, followed by time at home with limited movements. Your friends and family will need to provide additional care while you're recovering and are unable to work, drive, or complete household tasks. Additionally, recovering from surgery means you'll be prescribed opioids, which are highly addictive. Any time you can explore more conservative treatment options for your back pain, you should do so.
When you're ready to stop the constant ache of back pain, schedule an appointment with the top pain management doctors in your area at Pain Treatment Specialists. Our team of highly-rated pain doctors look forward to finding minimally invasive solutions for your chronic back pain.
LEARN MORE ABOUT OUR TEAM OF SPINE & JOINT SPECIALISTS IN NEW YORK & NEW JERSEY:

Call us
Speak instantly with an agent to verify your insurance and book an appointment.
(866) 446-0946

Book Online
Visit our
Book appointment 
page
and instantly request an appointment at a Spine & Joint center near you. We offer Free Insurance Verification before your appointment.

Get Directions
Learn how to easily get to the Spine & Joint center locations.
FEATURED POSTS BY PAIN DOCTORS
How Does Physical Therapy for Back Pain Help You Feel Better?Once the spring weather begins to thaw winter's chill, a host of outdoor activities become accessible again. On a particularly balmy afternoon, you hit the links for a quick round of golf. Your body feels...
read more