Back Pain Doctors in NYC Discuss the Best Ways to Treat Chronic Back Pain
When you're making a major life decision, it's always good to consult an expert on the topic before you take the big leap. Want advice about how to plan the perfect wedding? Meet with a wedding planner to guide you down this complex path. Looking for the best plants for a shady section of your yard? Consult with the horticulturist at your local greenhouse. The same thing goes for treating chronic back pain, which limits your ability to fully enjoy all of the activities you love. If you want to discuss the best ways to treat chronic back pain, you'll need to meet with an expert on the topic.
Who Are The Best Back Pain Doctors in NYC?
Your health is the most precious priority in your life. You can replace material goods, but you only get one body to get you through life's journey. Taking care of your body should be trusted to doctors who are specially trained in each section of your anatomy. After all, you wouldn't visit a primary care physician if you needed dental work! The same is true for chronic back pain. You'll want to meet with the best back pain doctors to ensure that your back is in the best hands. At Pain Treatment Specialists, each of our pain doctors is carefully vetted to make sure that not only are their qualifications impeccable, but that their patient relationships are kind and caring. Some of the best back pain doctors at our back pain clinic include:
Dr. George Hanna: Dr. Hanna is double certified in anesthesiology, interventional pain management, and pain medicine, making him a nationally recognized pain management specialist. After a pain management fellowship at Brigham and Women's Hospital: Harvard Medical School, Dr. Hanna taught students at Harvard in the fields of anesthesiology and pain management. He uses the best qualities of an excellent teacher at Pain Treatment Specialists, where he clearly explains a patient's back pain condition and customizes a back pain treatment plan.
Dr. Namrata Khimani: Dr. Khimani is a nationally recognized pain specialist by the American Board of Anesthesiology, which is a very rigorous certification process. She is also an honors graduate of Harvard Medical School, where she completed an advanced fellowship in interventional pain management at Brigham and Women's Hospital.
Dr. Khimani and Dr. Hanna are just two experts you'll find at Pain Treatment Specialists, where every back pain doctor is of the highest quality.
What Does an Expert Back Doctor Recommend for Back Pain Treatment?
When you want an expert recommendation for chronic back pain, you should meet with a pain management specialist. Even though an orthopedic surgeon and a spine surgeon are also qualified to diagnose and treat your back pain, know that their final recommendation is often back surgery. In many instances, back surgery is unnecessary, and your back pain is easily treated with a host of minimally invasive treatments. At Pain Treatment Specialists, our back pain doctors utilize a wide variety of highly-effective back pain treatments including:
Physical Therapy: Your pain management doctor works with a physical therapist to create a customized series of exercises and movements to treat back pain. Each patient's treatment plan is different depending on the type of back pain issues diagnosed by their pain doctor.
Lumbar Radiofrequency Ablation: For lower back pain caused by an inflamed facet joint, lumbar radiofrequency ablation is a highly-effective pain relief treatment. Your back pain Dr. uses heat energy that is delivered to the exact nerve endings that are producing pain signals to the facet joint. The heat energy blocks these pain signals, which provides tremendous pain relief.
Lumbar Epidural: A lumbar epidural is an injection of a local anesthetic and a corticosteroid. If you suffer from sciatica, this combination of treatments is very effective at providing pain relief.
Chronic back pain doesn't have to end with surgery as your only treatment option. Meet with the back pain doctors at Pain Treatment Specialists to see how one of our minimally invasive back pain treatments provides long-lasting back pain relief.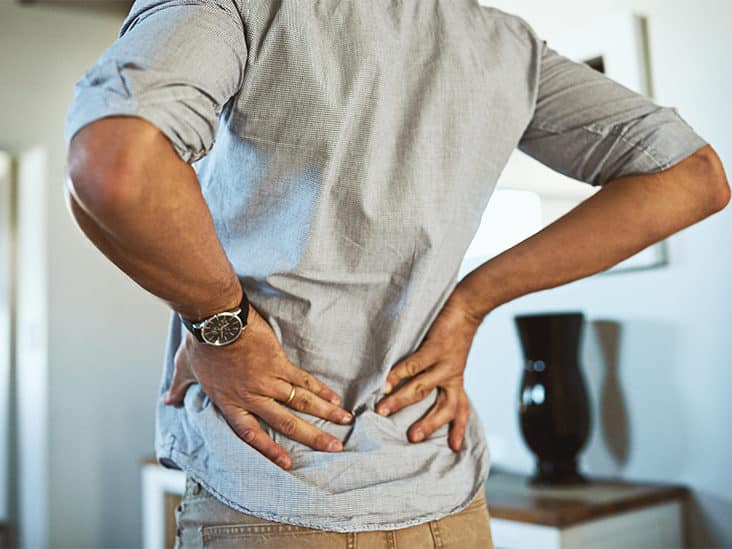 We offer free insurance verification! Fill out the form and expect a call from one of our agents:
How Do I Describe Chronic Back Pain to My Pain Doctor?
When you live with chronic back pain, it's something that you become used to. This doesn't mean that you're not in pain (you are!) but it happens so often that you get used to the discomfort. Meeting with a back pain doctor requires you to articulate your back pain, so it's best to have an idea of how you'll accurately describe back pain during your initial consultation. Here are some tips from the back pain doctors at Pain Treatment Specialists that will help you describe your chronic back pain:
1. Keep a Pain Diary: "Dear Diary, my back hurt again today." No, we're not suggesting that you keep the same sort of diary that you did as a teen, but recording or journaling your back pain is useful when outlining your day. For example, when you wake up in the morning does your back feel fine, but by mid-day you feel a dull ache? What types of movements or activities cause the most pain? By writing down your daily experiences, you'll have a clearer picture of your back pain.
2. Use Specific Pain Words: This is also a good piece to add to your pain diary. Using specific words to describe your pain such as sharp (like a cut), throbbing (like a headache), or dull (soreness) are all useful terms.
3. Rate Your Pain: On a scale of 1 (minimal) to 10 (excruciating), rate your back pain during different parts of your day. Bending over might be a 2, but sitting for long periods of time might be an 8.
Book an appointment at Pain Treatment Specialists, where our back pain doctors are also back pain experts. When you consult with a member of our team, you're getting the best possible care and treatment for your chronic back pain.
LEARN MORE ABOUT OUR TEAM OF SPINE & JOINT SPECIALISTS IN NEW YORK & NEW JERSEY:

Call us
Speak instantly with an agent to verify your insurance and book an appointment.
(866) 446-0946

Book Online
Visit our
Book appointment 
page
and instantly request an appointment at a Spine & Joint center near you. We offer Free Insurance Verification before your appointment.

Get Directions
Learn how to easily get to the Spine & Joint center locations.
FEATURED POSTS BY PAIN DOCTORS
How Does Physical Therapy for Back Pain Help You Feel Better?Once the spring weather begins to thaw winter's chill, a host of outdoor activities become accessible again. On a particularly balmy afternoon, you hit the links for a quick round of golf. Your body feels...
read more