Why Does My Lower Back Hurt? Consult an Expert Back Pain Doctor for Answers
If you're asking, "Why does my lower back hurt?" you're in good company. One of the surest signs that you're aging is experiencing lower back pain, and the causes can be as varied as  "wear and tear is finally catching up to me" to "you're a terrible dancer." Meeting with primary care physicians isn't sufficient to identify the source of your back pain, since specialized training is needed to become a back expert.  Back pain is as complex as its causes, and is best diagnosed and treated by a back doctor in NYC or a back specialist in NJ.
How do you know if your back injury is serious, and not just a result of your Elaine-esque dance moves? The only way to find proper back pain treatment in NYC is making a call to Pain Treatment Specialists, where you'll meet with a board certified and Harvard trained back pain doctor. Our back specialists in NYC listen closely to your chronic pain concerns, and then create a back pain treatment plan that works to alleviate your chronic back pain.
How Does a Back Pain Doctor Identify Lower Back Pain Causes?
During your first consultation with a back pain doctor, you'll be asked to describe your back pain, and discuss whether or not you've suffered a back injury during a fall or accident. Your back pain doctor in NJ or back pain doctor in NYC then completes an exam to pinpoint exactly where your back hurts, and what specific actions or activities cause your back pain. Your back pain doctor is able to identify your lower back pain causes by using their years of experience in interventional pain medicine and pain management treatments to isolate the underlying cause of your chronic pain.
The best back pain doctors in NYC listen carefully to their patients, and make them feel at ease during their consultation. Discussing back pain is not easy for many people, since it has such a negative effect on their daily life. Be open and clear with your back pain doctor in Edison NJ, and describe your pain as honestly as possible. If it's impossible to pick something up off the ground because your back aches, don't be afraid to mention this to your back pain doctor. As a back pain specialist in NYC, their job is not to judge you, but help you return to a pain free life. Masking your pain or symptoms does not help your back doctor create an accurate back pain treatment plan.
Book an appointment today at Pain Treatment Specialists, where our board certified and Harvard-trained back pain doctors make each patient feel welcomed, safe, and comfortable in their cutting-edge back pain clinics.
What Are Common Lower Back Pain Causes?
Sadly, your bad dancing might not be the only cause of your recent lower back pain. There could be underlying conditions causing your sore back that have nothing to do with your inability to follow a beat. This is why meeting with a back pain doctor, such as the Harvard-trained team at Pain Treatment Specialists, is critical in diagnosing your chronic pain.
Overuse or repetitive motions often cause lower back pain. Think about the last time you were painting, golfing, gardening, or even dancing. When's the last time you used your back muscles in that manner for an extended period of time? The soft tissues and muscles in your lower back become sore and irritated after completing the same repetitive motion. Muscle strains and ligament strains are common lower back pain causes.
Sciatica used to be your punchline when making fun of your parents getting older ("Oh! My sciatica's acting up again!") but now that you're also aging you see that this condition is no joke. A herniated or bulging disc causes irritation on your sciatic nerve, causing extreme lower back pain which also radiates to your buttocks, hips, and legs.
Normal wear and tear on your lower back also leads to degenerative disc disease. This occurs as your spinal discs naturally wear down over time and are unable to provide effective shock absorption.
At Pain Treatment Specialists, our spine doctors give you a proper diagnosis of your back pain, followed by effective options for back pain relief.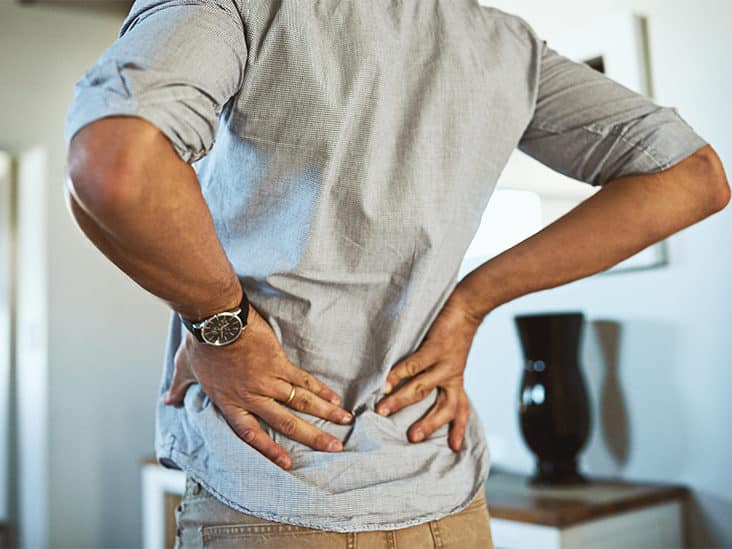 We offer free insurance verification! Fill out the form and expect a call from one of our agents:
What Are The Best Lower Back Treatment Options?
If you meet with a spine surgeon, orthopedic surgeon, or spine specialist, surgery is a treatment option. Did you know that many back surgeries are avoided by meeting first with a pain management specialist? You don't need to go through the pain and expense of back surgery or spine surgery when you'll find effective pain relief from minimally-invasive back pain treatments. This is why it's important that your first call is to Pain Treatment Specialists, where our treatment options involve interventional pain medicine, and not surgery for back pain treatment. At our cutting edge pain clinics in NYC and NJ, you'll find the following treatment options:
Physical Therapy: Using physical medicine and rehabilitation, your physical therapist creates an exercise and strength-building program that treats your chronic back pain. Using the medical advice of your back pain doctor, your physical therapist customizes a treatment plan that works for your specific back injury or diagnosis.
Lumbar Facet Injection: Your back pain doctor in NYC injects a local anesthetic or numbing medicine into one or more of the small joints located along the side of each vertebra. This back pain treatment provides tremendous pain relief and allows you to resume your normal activities in just a few days.
COOLIEF Joint Cooled RF: COOLIEF uses cooling technology to denervate your sacroiliac joint. Your sacroiliac joint is often the cause of lower back pain, and this minimally-invasive back pain treatment prevents pain signals from reaching your brain.
Schedule an appointment with a back pain doctor, such as the outstanding team at Pain Treatment Specialists, to properly diagnose and treat your lower back pain. You'll get back to being a dancing machine… even if your friends groan every time you hit the dance floor.
LEARN MORE ABOUT OUR TEAM OF SPINE & JOINT SPECIALISTS IN NEW YORK & NEW JERSEY:

Call us
Speak instantly with an agent to verify your insurance and book an appointment.
(866) 446-0946

Book Online
Visit our
Book appointment 
page
and instantly request an appointment at a Spine & Joint center near you. We offer Free Insurance Verification before your appointment.

Get Directions
Learn how to easily get to the Spine & Joint center locations.
FEATURED POSTS BY PAIN DOCTORS
How Do You Know When to See a Doctor for Back Pain?Getting ready for a warm weather vacation? Time to unpack your summer clothing bins and begin packing your bags. You head to the basement to begin sorting through swimsuits and tank tops, but are left stunned by the...
read more