Top 5 Tips for Treating Back and Leg Pain
What can cause really bad back pain? The answer can be as simple as sleeping in a strange position for an evening. When we were younger, twisting and contorting our backs in a variety of manners didn't make us think twice. Now, we have to put some serious focus into bending over to tie our shoes so that our lower backs don't seize up. Back and leg pain happens at some point in many people's lives, but when is it cause for concern?
At Pain Treatment Specialists, our team of Harvard-trained pain specialists believe that any time spent dealing with back and leg pain is too much. This is because without a proper diagnosis and treatment plan for your pain, the condition can worsen over time. Your body loses joint fluid and cartilage, both of which help your knees and back sustain daily wear and tear. As soon as you feel lower back pain or knee pain, booking an appointment with our interventional pain doctors helps prevent future damage. Since our pain doctors specialize in minimally invasive treatments, your treatment plan will not involve surgery or narcotics. What are the top 5 tips for treating back and leg pain? The first suggestion is scheduling an appointment at Pain Treatment Specialists, where you can find reliable medical advice about your chronic pain concerns.
Tip 1: Find an Expert Pain Doctor
Not all doctors treat chronic pain with the same methods. For example, an orthopedic surgeon specializes in surgery as their primary treatment method. The majority of chronic pain conditions are easily mitigated with interventional pain medicine treatments. Unless medically necessary, surgery should be avoided whenever possible. There's no guarantee that surgery will permanently "fix" your pain issue, and it is also a major disruption in your life.
Finding an expert pain doctor with extensive training in interventional pain medicine is key when looking for relieving your chronic pain. The nationally-recognized pain doctors at Pain Treatment Specialists are all leaders in the field of pain medicine, and look forward to discussing your treatment options at their state-of-the-art pain clinics in NYC, Long Island, and NJ. Each of our back pain doctors and neck pain doctors receive outstanding patient reviews that mention their thorough diagnosis and treatment plan, as well as their compassionate bedside manner. Booking an appointment at Pain Treatment Specialists is the best tip for treating back and leg pain.
Tip 2: Modify Your Daily Activities to Avoid Lower Back Pain
What causes sharp back pain, and why is there a sharp pain in my back? The answer could be a condition called sciatica. If you suffer from sciatica, which causes sharp back pain in your lower back and legs, you may want to avoid activities that aggravate your pain. Sciatica is caused by herniated discs that put pressure on the sciatic nerve. This nerve pain is intense, and is one of the major causes of back pain. Keep track of activities such as shoveling, sitting too long, or riding a bike that aggravate your lower back pain.
Tip 3: Work With Your Pain Doctor to Develop a Treatment Plan
There are several minimally invasive pain treatments that are effective for treating sciatica, or other back and knee pain conditions such as osteoarthritis. The back pain treatments and knee pain treatments utilized at Pain Treatment Specialists are designed to effectively relieve your chronic pain while also avoiding surgery.
Steroid injections are a powerful tool that alleviate pain and swelling related to sciatica. This injection is administered at our pain clinic, and provides significant pain relief.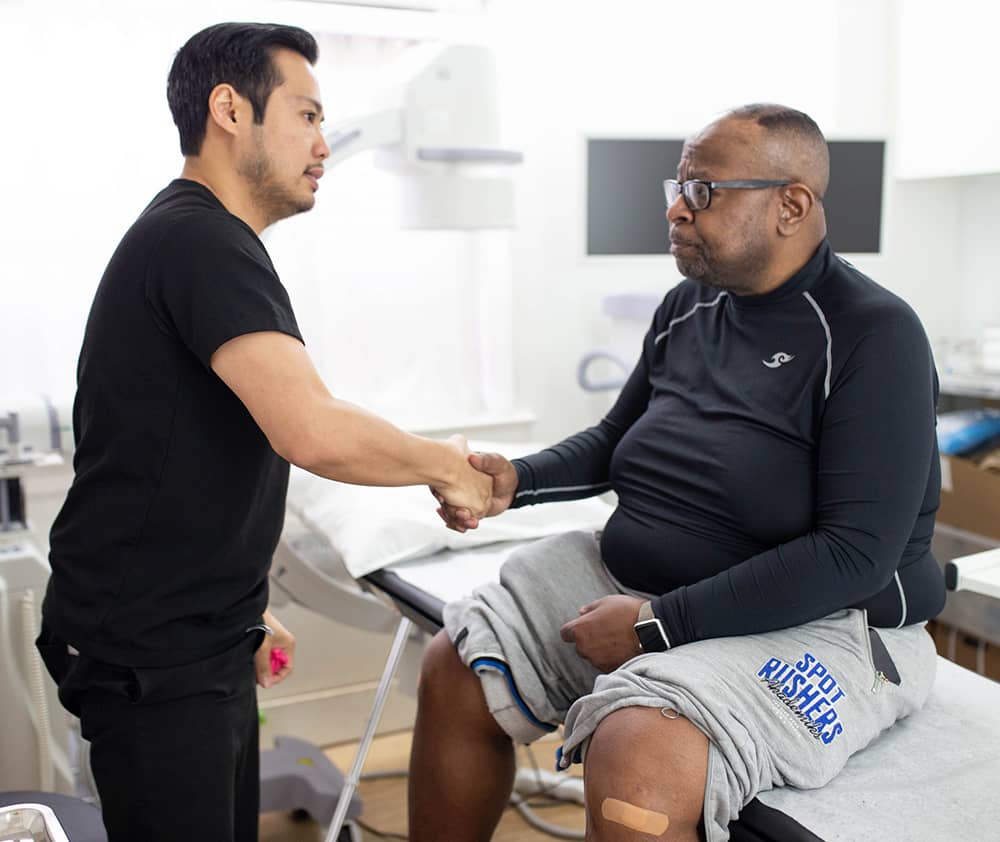 We offer free insurance verification! Fill out the form and expect a call from one of our agents:
Hyaluronic acid injections are useful for people suffering from decreased knee joint fluid as a result of osteoarthritis. Since hyaluronic acid is the main component of joint fluid, supplementing your knee's natural supply helps improve your mobility and range of motion.
Your pain specialist provides a thorough diagnosis of your back and leg pain, and then works to combat your specific symptoms. At Pain Treatment Specialists, all of our treatment plans are customized to meet each patient's needs.
Tip 4: Know What Types of At-Home Treatments Relieve Sciatic Nerve Pain
Stretches and heat and cold therapies are great ways to relieve sciatica pain at home. Ask your back pain doctor at Pain Treatment Specialists about specific stretches or movements that relieve the pressure and tension in your lower back. Part of your treatment plan may also involve physical therapy, which provides a series of intentional movements and exercises designed to relax and strengthen your lower back.
Tip 5: Adopt Healthier Lifestyle Habits
A few small lifestyle changes like losing weight, getting more daily physical activity, and adding massage therapy to your rotation can help prevent leg and back pain. Adding weight and becoming more physically active is good for your overall health, and also puts less stress on your bones and joints. Massage therapy also works to relieve sore muscles and improve your overall mood.
Back and leg pain may begin as a nuisance, but can quickly develop into a more painful and serious problem. At the first signs of pain, schedule an appointment at Pain Treatment Specialists and find out what their Harvard-trained pain doctors can do to relieve your pain.
LEARN MORE ABOUT OUR TEAM OF SPINE & JOINT SPECIALISTS IN NEW YORK & NEW JERSEY:

Call us
Speak instantly with an agent to verify your insurance and book an appointment.
(866) 446-0946

Book Online
Visit our
Book appointment 
page
and instantly request an appointment at a Spine & Joint center near you. We offer Free Insurance Verification before your appointment.

Get Directions
Learn how to easily get to the Spine & Joint center locations.
FEATURED POSTS BY PAIN DOCTORS
How Do You Know When to See a Doctor for Back Pain?Getting ready for a warm weather vacation? Time to unpack your summer clothing bins and begin packing your bags. You head to the basement to begin sorting through swimsuits and tank tops, but are left stunned by the...
read more