What is a Spine Doctor Called? Meet with a Back Pain Specialist for Pain Relief
Back pain is one of the most common reasons why people cancel their daily plans, including heading to work. Who can think about a day of sitting and entering data when your back is throbbing with pain? Instead of giving in to back pain and hoping for it to get better on its own, it's best to find a back pain specialist who is able to treat your chronic pain and restore your quality of life. Before you begin your search for a back pain doctor, you want to make sure you're meeting with a back doctor who does not use surgery or addictive narcotics for pain management. When you begin researching "what is a spine doctor called", look for an interventional pain doctor for the best advice for chronic back pain.
At Pain Treatment Specialists, our team of Harvard-trained back injury doctors are board-certified pain medicine doctors. This type of doctor receives fellowship training in interventional pain medicine, which is a specialty that focuses on treating the root cause of your back pain through minimally-invasive methods. All of our spine specialists avoid surgery in favor of more conservative back pain treatments. When you begin searching for a back pain doctor, don't be overwhelmed by the search phrases "top-rated cervical spine surgeons", "thoracic spine doctor", "waist pain doctor near me", or "back spine doctor near me." Instead, schedule an appointment at one of our pain clinics in NYC, northern NJ, or Long Island and see how our neck, back, and spine doctors treat chronic pain with effective and long-lasting results.
What is a Spine Doctor Called?
A spine doctor who focuses on minimally-invasive treatments is known as an interventional pain doctor. This type of back doctor does not entertain back surgery unless it is medically necessary, and instead utilizes more conservative treatments such as steroid injections and radiofrequency ablations. When you search for phrases like "spine pain specialists near me", "spine injury doctor near me", "ortho back specialist", or "neurosurgeon", be prepared that these doctors are best reserved for traumatic back injuries that require surgery for treatment. In most cases, back injuries and chronic back pain are best treated with more conservative options first to avoid the complications and disruptions of major surgery.
At Pain Treatment Specialists, every member of our back pain team is carefully vetted to ensure that not only are their qualification stellar, but also that their bedside manners are kind and compassionate. Dr. Laura Lombardi is one of our top back pain specialists, and completed an interventional pain management fellowship at Harvard Medical School. She is double board certified in anesthesiology and pain medicine, and specialized in fluoroscopic-guided pain treatments. This special type of x-ray allows Dr. Lombardi to precisely identify the area needed for treatment and administer targeted pain relief. Her patient reviews are consistently and overwhelmingly positive. One recent review reads, "Dr. Lombardi and her team are truly fantastic! I've struggled with back pain for a long time and treatment has made me feel better than I have in a long time."
What is a spine doctor called? At Pain Treatment Specialists, our spine doctors are nationally recognized pain management specialists. Book an appointment at one of our back pain clinics and see how our expert pain doctors identify and treat chronic pain.
How Does a Back and Spine Doctor Treat Chronic Pain?
During your consultation with Pain Treatment Specialists, you'll have an honest conversation about your back pain. Your back pain specialist listens to your pain concerns, and hears how chronic back pain affects your daily activities. After this initial conversation, your back pain doctor then completes a physical examination, where they assess your range of motion, and may also evaluate your gait. If needed, additional images are ordered to rule out an underlying injury. Finally, your pain specialist explains your back pain condition, as well as your customized treatment plan. Some of the back pain treatments offered at our pain clinics include:
Trigger Point Injections: Through overuse, certain muscle groups may develop tension and pain. These areas may then produce painful muscle spasms, which greatly affect your daily movements. A trigger point injection uses a local anesthetic to relax these muscle groups and provide pain relief.
Physical Therapy: Physical therapy is often used in conjunction with pain medicine treatments. A physical therapist is an expert in your musculoskeletal system, as well as exercise science. This allows them to design a treatment plan to relieve your pain and swelling, and also build strength in your core and lower back.
Radiofrequency Ablation: This minimally invasive back pain treatment uses heat energy to deactivate troublesome nerves. These nerves may be aggravated by a herniated disc, or spinal stenosis.
If you're looking to find minimally invasive solutions for your lower back pain, book a consultation at Pain Treatment Specialists. Our team of back pain experts look forward to tailoring a customized treatment plan for your specific back pain concerns.
Can I Treat Herniated Discs and Irritated Peripheral Nerves at Home?
You can find some relief from herniated discs and irritated peripheral nerves at home. Follow the RICE strategy of rest, ice, compressing, and elevating your back to reduce pain and pressure. Stretching your back also helps relieve pressure, and one specific stretch that helps is a knee-to-chest stretch. Lie on your back and bring your knee to your chest, holding for 20 seconds. Switch to your other leg and repeat the same movement.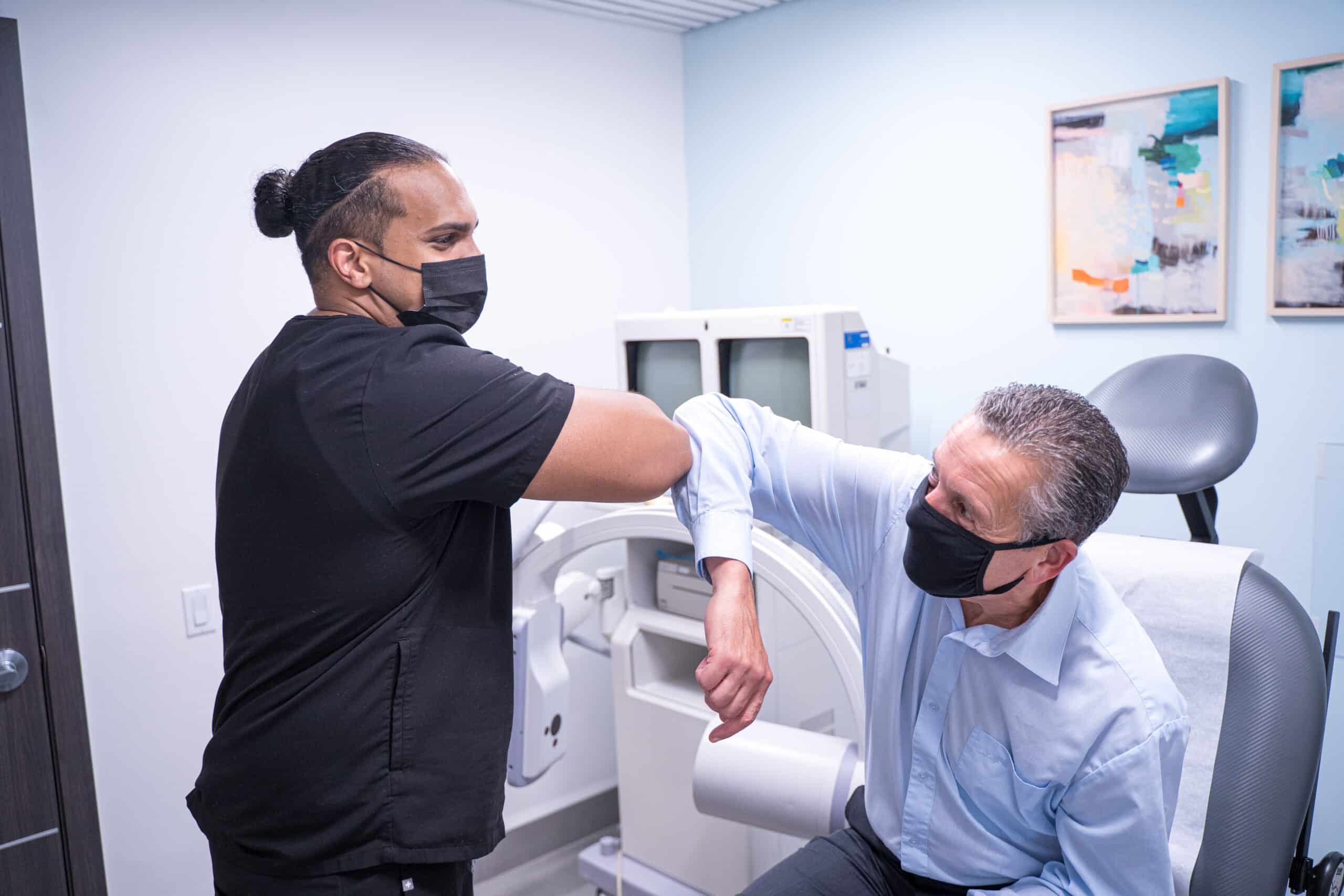 We offer free insurance verification! Fill out the form and expect a call from one of our agents:
Book an appointment at Pain Treatment Specialists and receive a proper diagnosis and treatment plan for your chronic lower back pain. Our team of nationally recognized back pain specialists are eager to help patients restore their daily activities without pain and with a renewed sense of confidence.
LEARN MORE ABOUT OUR TEAM OF SPINE & JOINT SPECIALISTS IN NEW YORK & NEW JERSEY:

Call us
Speak instantly with an agent to verify your insurance and book an appointment.
(866) 446-0946

Book Online
Visit our
Book appointment 
page
and instantly request an appointment at a Spine & Joint center near you. We offer Free Insurance Verification before your appointment.

Get Directions
Learn how to easily get to the Spine & Joint center locations.
FEATURED POSTS BY PAIN DOCTORS
How Do You Know When to See a Doctor for Back Pain?Getting ready for a warm weather vacation? Time to unpack your summer clothing bins and begin packing your bags. You head to the basement to begin sorting through swimsuits and tank tops, but are left stunned by the...
read more