Learn How Shoulder Pain Doctors Use Minimally Invasive Treatments for Pain Relief
Sunday grocery shopping is your time to pick up the essentials you need for the week. One large trip on your day off prevents smaller trips during the week, and anything you can do to save time during the workweek is welcomed. Peeking at the grocery list on your phone, you cruise toward the paper products aisle, thankful that this year you're able to easily buy toilet paper. Noticing a great deal on the upper shelf, you stretch your arms to grab the discounted multi-pack. However, your shoulder pain instantly makes this motion painful, and the package goes tumbling to the ground. You were able to grab a great deal, but now your shoulder is aching for the rest of the day.
You've experienced shoulder instability before, but the problem resolved itself quickly. This time your shoulder pain sticks around for weeks, making daily tasks like getting dressed difficult. You're ready to meet with shoulder pain doctors but are afraid that surgery will be your only option. Thankfully, there are many options involving pain medicine that provide long-lasting relief while also avoiding surgery. At Pain Treatment Specialists, their team of Harvard-trained pain doctors only use minimally invasive treatments for shoulder, neck, back, and knee pain. These conservative treatments address your shoulder pain right at its source and allow you a greater range of motion, decreased inflammation, and less shoulder pain when reaching behind your back. You decide to schedule an appointment at one of their pain clinics and find out how you can get rid of your shoulder pain before you miss another great deal at the grocery store.
What Qualifications Should Shoulder Pain Doctors Have?
Not all specialist doctors for shoulder pain use the same treatments. For example, orthopedic surgeons tend to recommend surgery to relieve shoulder pain. This is because an orthopedic surgeon's background and training focused on surgical treatments. Most cases of front deltoid pain, left shoulder pain, and right shoulder pain are easily addressed through interventional pain medicine. This type of treatment uses steroid injections, platelet-rich plasma therapy, and nerve blocks to stop pain at its source. If you're not sure about which doctor to see for neck and shoulder pain, find a shoulder pain doctor who is also an interventional pain doctor.
You'll find this type of doctor at Pain Treatment Specialists. One of our top shoulder pain doctors is Dr. George Hanna, who is double board-certified in anesthesiology, pain management, and interventional pain medicine. He is the former Director of Pain Innovations and Technology at Harvard Medical School, where he was also a Clinical Instructor of anesthesiology. Dr. Hanna's patient reviews mention that he "takes his time with patients" and leaves them "highly satisfied" with their care and treatment plan.
Dr. Shane Volney is also a former Clinical Instructor at Harvard Medical School, and is a regular contributor to medical journals and textbooks focusing on pain medicine. His patient reviews state that he is "a very caring person" who "listens carefully in order to satisfy your needs." One recent review comes from a patient who visited the pain clinic believing that his arm would be permanently disabled after a car accident. After meeting with Dr. Volney, the patient reported regaining mobility in their arm, which was a life-changing experience.
Whether you've had shoulder pain for 2 months or 2 years, the team at Pain Treatment Specialists are able to help. Our team of Harvard-trained pain doctors have effective solutions for upper arm injuries, shoulder problems, and shoulder joint pain.
What Treatments are Most Effective for an Upper Arm Injury?
The pain you experienced when trying to reach above your head is very common. Shoulder pain affects many people, especially as we age. The ball and socket design of your shoulder make a lot of movements during an average day, and when something is out of place you'll know right away. This is when you feel shoulder instability or pain when raising your arms. At Pain Treatment Specialists, we identify the underlying cause of your shoulder pain and create a customized treatment plan to reduce your pain and swelling.
Viscosupplementation is the process of adding hyaluronic acid to your shoulder joint. Hyaluronic acid is the main component of joint fluid, and is often lost as we age. It may also deplete due to conditions like osteoarthritis. If your shoulder feels like there is a grinding sensation when you move your arm, you might be experiencing the loss of joint fluid.
Physical therapy is often used along with treatments like viscosupplementation and steroid injections for maximum pain relief. During your physical therapy sessions you'll increase your range of motion and shoulder strength with stretches and weight-bearing exercises.
Pain Treatment Specialists' team of expert pain doctors customize treatment plans for every patient depending on their needs. Book an appointment today and begin the process of feeling better.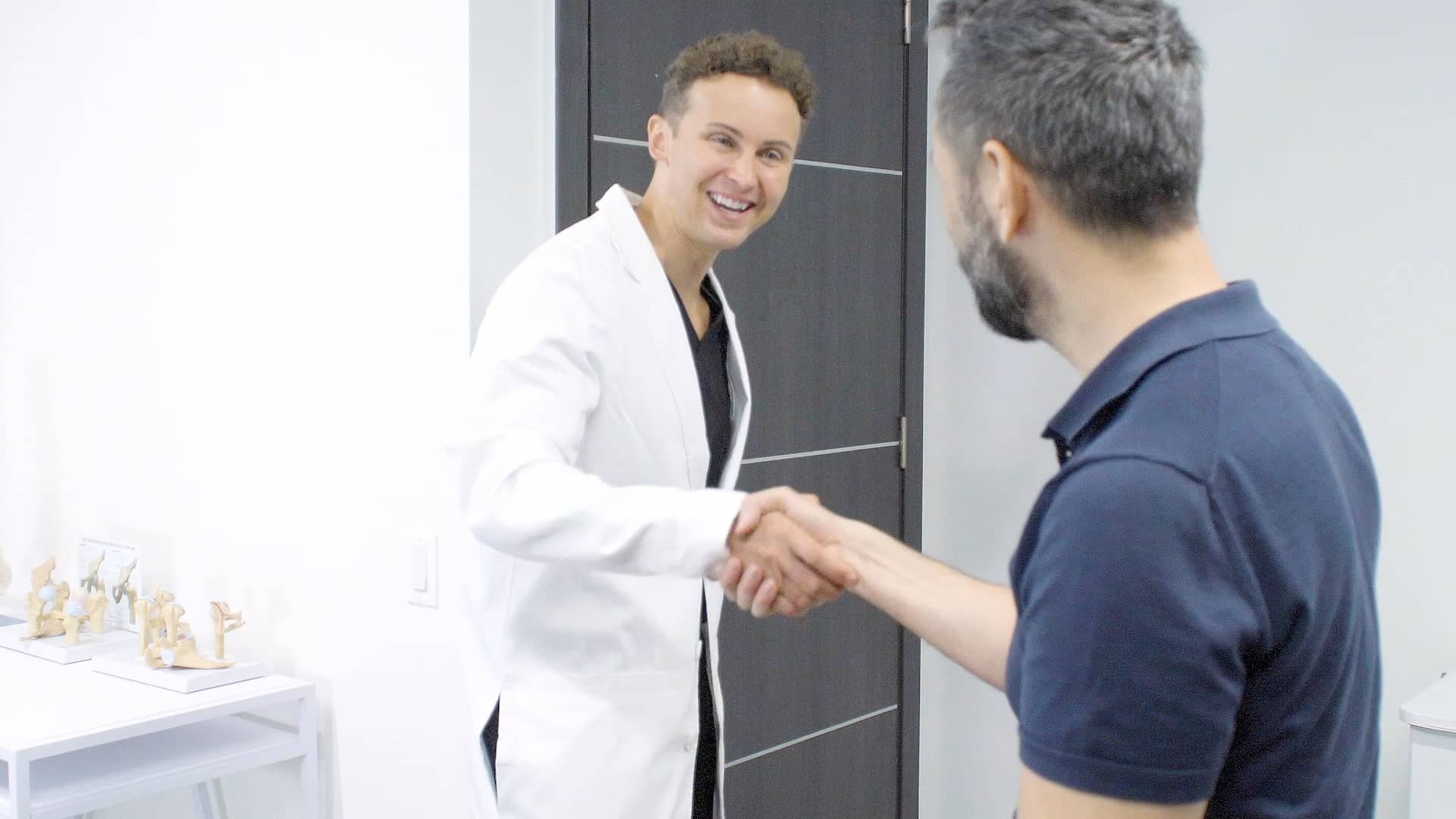 We offer free insurance verification! Fill out the form and expect a call from one of our agents:
I Fell on My Arm and it Hurts Really Bad. What Should I do Next?
When you take a nasty tumble or are involved in a car accident, it's important to assess the severity of your shoulder pain. If you feel numbness or tingling in your arms or are unable to move your arm without excruciating pain, you should visit an emergency center immediately. If your pain levels are less severe, begin with over-the-counter pain medication and icing your shoulder in 20-minute intervals. This will reduce your pain and swelling. Use an athletic bandage to provide additional support to your shoulder and avoid any activities that put additional stress on your arm and shoulder like painting and swimming.
Schedule an appointment at Pain Treatment Specialists and see why our patients provide 5-star reviews. You don't have to live with chronic shoulder pain, and can easily avoid surgery with our minimally invasive treatment plans.
LEARN MORE ABOUT OUR TEAM OF SPINE & JOINT SPECIALISTS IN NEW YORK & NEW JERSEY:

Call us
Speak instantly with an agent to verify your insurance and book an appointment.
(866) 446-0946

Book Online
Visit our
Book appointment 
page
and instantly request an appointment at a Spine & Joint center near you. We offer Free Insurance Verification before your appointment.

Get Directions
Learn how to easily get to the Spine & Joint center locations.
FEATURED POSTS BY PAIN DOCTORS
How Do You Know When to See a Doctor for Back Pain?Getting ready for a warm weather vacation? Time to unpack your summer clothing bins and begin packing your bags. You head to the basement to begin sorting through swimsuits and tank tops, but are left stunned by the...
read more