Meet With Harvard Trained Knee Pain Doctors for the Most Effective Knee Pain Treatment Plans
When you suffer from knee pain caused by rheumatoid arthritis or gout, you have a lot of questions about how to best treat your chronic knee joint pain. You've likely asked "when should I see a rheumatologist", "does a rheumatologist treat back pain", "what the difference between a neurologist vs rheumatologist and orthopedic vs rheumatologist", and "do orthopedic doctors treat gout." A rheumatologist specializes in diagnosing joint pain, and an orthopedist specializes in musculoskeletal issues. However, knee pain doctors that are also pain management doctors specialize in treating your knee joint pain with minimally invasive treatment plans. A doctor that treats rheumatoid arthritis also needs training in pain medicine and pain management.
At Pain Treatment Specialists , all of our board certified pain management doctors have extensive experience in pain medicine. They are different from an orthopedic doctor because they do not recommend knee replacement surgery unless medically necessary. An orthopedic near me relies on surgery as their primary treatment method, which is invasive and often unnecessary. The pain doctors at Pain Treatment Specialists have a wide variety of knee pain treatment options for pain management.
How Do Knee Pain Doctors Treat Chronic Knee Pain?
What does rheumatology mean? It is the study of joint disorders, such as arthritis or other ligament and muscle issues. Do you need a referral to see a rheumatologist? Yes, your primary care physician provides a referral to a rheumatologist for osteoarthritis. However, you don't need a referral to meet with the knee pain doctors at Pain Treatment Specialists, where our team of Harvard trained pain management doctors create customized treatment plans for your knee pain issues. An orthopedist or orthopedic surgeon often uses knee replacement surgery for knee pain treatment, but this is not the case at Pain Treatment Specialists. Some of the minimally invasive knee pain treatments offered at our pain clinics include:
Physical Therapy: This is one of the most conservative treatments for joint pain, and is often highly effective. Your physical therapist works in conjunction with your knee pain doctor to determine which therapies and exercises are best for your knee injury or knee joint pain. After several sessions of physical therapy, your knee is stronger, more stable, and has an increased range of motion.
Injections: Injections provide targeted relief depending on your knee pain concerns. If you suffer from osteoarthritis, then a lubricant injection is a great supplement for your knee's natural joint fluid. This will stop the grinding sensation you feel when bending or flexing your knee. Knee pain doctors use steroid injections to reduce pain and swelling in your knee.
G-block: A genicular nerve block calms severe knee pain, and is used if injections don't provide enough pain relief. It can also be used as a diagnostic tool to determine if your arthritis is becoming progressively worse.
When you book an appointment with your knee pain doctor at Pain Treatment Specialists, you're receiving the most cutting-edge pain treatments. Knee joint pain doesn't have to control your life!
Who are the Best Knee Pain Doctors That Also Utilize Pain Management Treatments?
What's the difference between orthopedic and rheumatologist when it comes to knee pain? An orthopedist vs a rheumatologist isn't a large difference, since both have training in the diagnosis of joint pain issues. However, diagnosing knee pain and joint pain is different from treating them. At Pain Treatment Specialists, our knee pain doctors have backgrounds in pain management, which allows them to avoid knee replacement surgery and provide effective knee pain relief. When you book an appointment at our pain clinic, you'll meet with a pain doctor such as:
Dr. George Hanna: Dr. Hanna served as Director of Pain Innovations and Technology at Harvard, followed by a position as Medical Director of Pain Management at Martha's Vineyard Hospital. His expertise in pain management is matched by his kindness and compassion for all patients suffering from knee pain. Dr. Hanna prides himself on finding effective knee pain solutions for every patient that enters his pain clinic.
Dr. Laura Lombardi: Dr. Lombardi is double board certified in anesthesiology and pain medicine, and she specializes in fluoroscopic-guided x-rays treatments. This allows Dr. Lombardi the ability to precisely pinpoint and treat your chronic knee pain with a high level of accuracy.
Dr. Hanna and Dr. Volney are just 2 of the highly rated knee pain doctors at Pain Treatment Specialists. Schedule an appointment at our pain clinics in northern NJ or NYC and meet with our team of knee pain specialists.
How Can I Manage Chronic Knee Pain and Knee Joint Pain At Home?
When your joints ache, finding effective at-home pain relief is essential for getting through your day. The knee pain doctors at Pain Treatment Specialists offer the following medical advice for at-home knee pain treatments:
Use over-the-counter pain medicine for joint pain relief. Ibuprofen or aspirin works to temporarily relieve joint pain. Make sure you follow the proper dosage recommendations listed on the packaging and do not exceed the daily limits.
RICE works! This 4-step process stands for "rest, ice, compress, and elevate." Rest your knee from strenuous activities and avoid movements that cause your knee pain. This means taking the elevator when you can instead of the stairs, and avoiding activities like running or biking. Ice your knee in 20 minute intervals to reduce pain and swelling, and alternate with a heating pad. Compress your knee with a supportive athletic bandage or brace to stabilize your knee and reduce swelling. Elevate your knee with a chair or pillow while sitting to improve blood circulation and also reduce pain and swelling.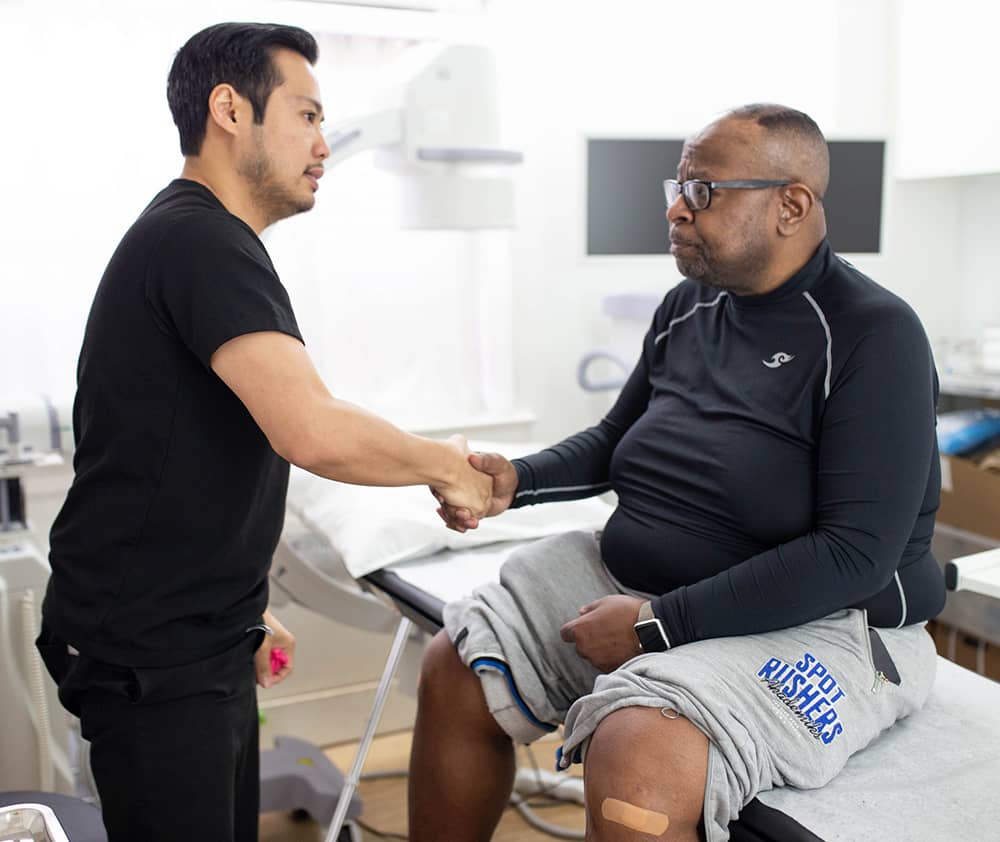 We offer free insurance verification! Fill out the form and expect a call from one of our agents:
3. Even though you should rest your knee, you also need to keep it moving. An inactive knee becomes stiff, so maintaining fluid motions helps keep your knee pliable. Swimming and yoga are 2 great activities for this.
Make an appointment with your doctor at Pain Treatment Specialists and see how our knee pain doctors create customized treatment plans for your knee joint pain. You'll find effective joint pain relief from our expert joint pain doctors in NJ and NYC.
LEARN MORE ABOUT OUR TEAM OF SPINE & JOINT SPECIALISTS IN NEW YORK & NEW JERSEY:

Call us
Speak instantly with an agent to verify your insurance and book an appointment.
(866) 446-0946

Book Online
Visit our
Book appointment 
page
and instantly request an appointment at a Spine & Joint center near you. We offer Free Insurance Verification before your appointment.

Get Directions
Learn how to easily get to the Spine & Joint center locations.
FEATURED POSTS BY PAIN DOCTORS
How Do You Know When to See a Doctor for Back Pain?Getting ready for a warm weather vacation? Time to unpack your summer clothing bins and begin packing your bags. You head to the basement to begin sorting through swimsuits and tank tops, but are left stunned by the...
read more