A Harvard-Trained Doctor Answers, "How Do I Prepare for a Spine Consultation?"
Any time you're about to embark on a new adventure, you're sure to ask lots of questions. Do you have the correct currency? Is it appropriate to tip where I'm going? What type of shows should I pack? Doing your due diligence is critical to ensure that you're prepared for what to expect. You feel the same when approaching a new appointment for your spine pain. You've been dealing with back pain for quite some time, but getting ready to see a pain doctor is brand new to you. When you call to book an appointment at Pain Treatment Specialists, you ask your concierge, "How do I prepare for a spine consultation?" Your personal concierge at this cutting-edge pain clinic is happy to answer all of your questions regarding your upcoming consultation and what types of treatment options are available at their pain clinic.
Pain Treatment Specialists has several locations in NYC, northern NJ, and Long Island that are all easily accessible. Their philosophy as medical professionals is treating your back pain with minimally invasive treatments such as steroid injections, nerve blocks, and radiofrequency ablation. Our back doctors are not spine surgeons, and instead utilize minimally invasive solutions for back pain. When you schedule an appointment at one of their pain clinics, you'll receive the best medical advice for your back pain from a team of nationally recognized pain doctors with a track record of proven results.
How Do I Prepare for a Spine Consultation?
One of the first questions you asked your personal concierge when you phoned was, "How do I prepare for a spine consultation?" Since you've never been to a spine doctor before, you were unsure what to expect. After scheduling your appointment and verifying your insurance information, your concierge answers your question in detail.
When you arrive at one of our pain clinics, you'll be greeted by our friendly front-end staff who welcome you into our sparkling clean waiting area. You'll have a brief wait before you are escorted back to our private consultation rooms. Here, you'll meet with one of our outstanding pain doctors like Dr. Jeffrey Deygoo, Dr. Laura Lombardi, or Dr. George Hanna. All of our pain doctors are carefully vetted to ensure the highest level of professionalism, background in pain medicine, and bedside manner. The first part of your appointment is spent discussing your back pain concerns while your doctor listens carefully to your description. Next, a physical examination is completed to determine your range of motion and which movements are causing pain. If needed, additional medical images are ordered. Then your pain doctor diagnoses the cause of your back pain and outlines your treatment plan. You'll have plenty of time to ask questions about your next steps before your concierge schedules your next pain appointment.
At Pain Treatment Specialists, our goal is relieving your back pain without being a major inconvenience in your life. Schedule an appointment at one of our pain clinics and see how much better you'll feel after your consultation.
What is a List of Questions I Can Expect During My Visit?
During your appointment at Pain Treatment Specialists, your back pain doctor asks questions to determine how back pain affects your life. Knowing these questions in advance helps you know what to observe before your visit. Our doctors are not spine surgeons, and instead look for minimally invasive solutions for back pain. The only time surgery is suggested is if it's medically necessary. Common questions include:
How long have you been experiencing back pain?
Are there certain activities that you avoid due to your back pain?
Does your back hurt more in the morning, during the day, or at night?
What types of movements cause the most pain?
Do you feel more back pain when you're sitting, standing, laying down, or lifting objects?
What type of pain does your back produce? Is it a dull ache or a sharp, stabbing sensation?
Knowing what to expect during your pain consultation is one of the ways that our personal concierges help Pain Treatment Specialists' patient care stand apart.
Can I Find Effective Treatment Options at Home?
There are some at-home back pain treatments that provide temporary pain relief. Following the RICE strategy for pain mitigation help reduce pain and swelling. This common acronym stands for "rest, ice, compress, and elevate."  Rest your back from strenuous movements like lifting heavy objects or sports like tennis that require a lot of twisting. Ice your back in 20-minute intervals to reduce swelling, and use a back brace or compression bandage to keep your back stable. This also provides relief when standing for long periods of time. Elevate your back with pillows when lying down to reduce pressure on your lower back and promote circulation.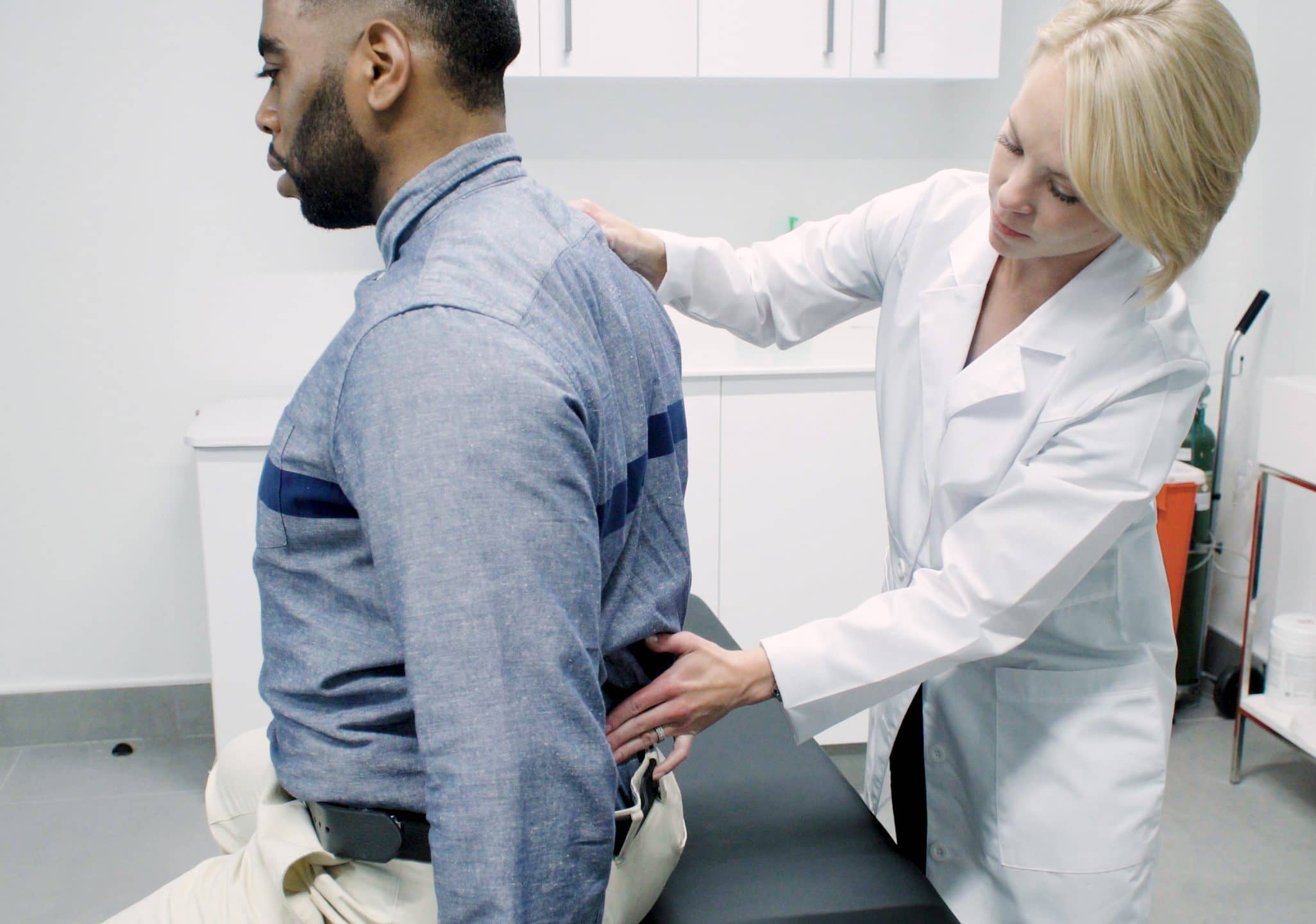 We offer free insurance verification! Fill out the form and expect a call from one of our agents:
Have a friend or family member join you on a walk around the block or a quick swim at the pool. Both of these activities are great for keeping your back liber without providing additional stress.
At Pain Treatment Specialists, our team of expert pain doctors look forward to meeting with you and discussing our wide variety of minimally invasive treatments. Schedule an appointment today at one of our pain clinics in NYC, Long Island, or northern NJ and begin living your best life without pain.
LEARN MORE ABOUT OUR TEAM OF SPINE & JOINT SPECIALISTS IN NEW YORK & NEW JERSEY:

Call us
Speak instantly with an agent to verify your insurance and book an appointment.
(866) 446-0946

Book Online
Visit our
Book appointment 
page
and instantly request an appointment at a Spine & Joint center near you. We offer Free Insurance Verification before your appointment.

Get Directions
Learn how to easily get to the Spine & Joint center locations.
FEATURED POSTS BY PAIN DOCTORS
What is a Back Specialist Called? Learn How an Interventional Pain Doctor Relieves Chronic Back PainBack pain is one of the most common chronic pain conditions that cause people to miss work. Even though you hadn't planned on taking a sick day, your sore and aching...
read more