What Treatment Does a Hip Doctor Recommend for Chronic Hip Pain?
When you were young, hearing someone complain about their aching hips seemed like a problem that came along with getting older. When it happens to you, it makes you think twice about your own aging process. You're not that old, right? So why is your hip pain becoming increasingly worse, and even preventing you from tackling more rigorous activities that you normally enjoy? You're a little afraid to consult with a hip doctor because it seems too soon in your life to have these issues, so you start with baby steps– cruising the web for answers. Your search history has "back and hip pain doctors near me", what kind of doctor for hip pain", "orthopedic surgeon hip specialist", and "best orthopedic hip surgeons near me", and gives you a general sense of how your hip pain could be treated.
During your searches, you come across Pain Treatment Specialists and like what you see. Considering hip surgery is not something you want to entertain, and want to find a hip clinic near me that uses more conservtaive treatments. You decide it's time to stop being afraid and schedule an appointment with this team of Harvard trained pain doctors. Not only are their patient reviews stellar, but you like their overall approach of treating chronic hip pain with pain medicine. When you began your research, you weren;t sure what doctor to see for hip pain. Now, you know that an interventional pain doctor is right for you.
Who is the Best Hip Doctor in My Area?
Not all doctors treat hip pain with the same methods. If you meet with orthopedic doctors or hip surgeons, hip replacement surgery is one of their go-to treatment methods. This is because these speciality trained hip doctors received extensive training using surgical treatments for pain relief. At Pain Treatment Specialists, our hip specialists are all interventional pain doctors, who fellowship trained in pain medicine and pain management. This type of training focuses on avoiding surgery and using injections, ablations, and nerve blocks for pain relief.
One of the top pain doctors at our state of the art pain clinics is Dr. George Hanna. He is double board certified in anesthesiology, pain medicine, and interventional pain management, and is the former Medical Director of Pain Management at Martha's Vineyard Hospital. Dr. Hanna is well-known for his kind and caring bedside manner, and his patient reviews are glowing. One recent review mentioned how Dr. Hanna even came into the clinic on his day off to help with her hip pain treatment. This desire to go above and beyond for all of his patients is one reason why Dr. Hanna is a top hip doctor in NYC and northern NJ.
Dr. Shane Volney is another top hip pain doctor at our pain clinics. Like Dr. Hanna, Dr. Volney is a former Clinical Instructor at Harvard Medical School, teaching palliative care and pain management for 7 years, One patient review mentions that Dr. Volney took a great deal of care and time to thoroughly explain the treatment process, and made sure to follow up after the procedure to ensure optimal results. Dr. Volney is committed to finding effective and long-lasting solutions for your hip pain.
Dr. Hanna and Dr. Volney are just 2 of the Harvard trained pain doctors at our state of the art pain clinics. Schedule an appointment and feel comfortable and confident with your choice of hip pain doctors.
What are the Best Minimally Invasive Treatments for Chronic Hip Pain?
When you meet with the hip pain doctors at Pain Treatment Specialists, your hip pain diagnosis determines the type of minimally invasive treatment used. One of the best advantages of visiting our pain clinics is our ability to treat your hip pain right at our cutting-edge facilities. Not only will you feel pain relief the same day, but you also don't have to travel all over town seeking different pieces of your hip pain treatment.
Steroid injections are one of the first treatments used for hip pain, and involve an anti-inflammatory injection like a corticosteroid. This treatment is effective for people suffering from pain and inflammation in their hip joints, and each injection typically lasts several weeks.
Viscosupplementation, also known as a hyaluronic acid injection, is useful for people dealing with hip arthritis. Hyaluronic acid is the main component of joint fluid, which is often lost as we age. This injection provides additional lubrication in your hip joint, which allows the joint to move with ease and without pain.
Physical therapy is also an effective tool when used in conjunction with pain medicine treatments. Your physical therapist uses exercises, stretches, and heat and cold therapies to increase your hip's range of motion and reduce hip pain.
Schedule an appointment at Pain Treatment Specialists and find which hip pain treatment provides the most effective and long-lasting pain relief for you.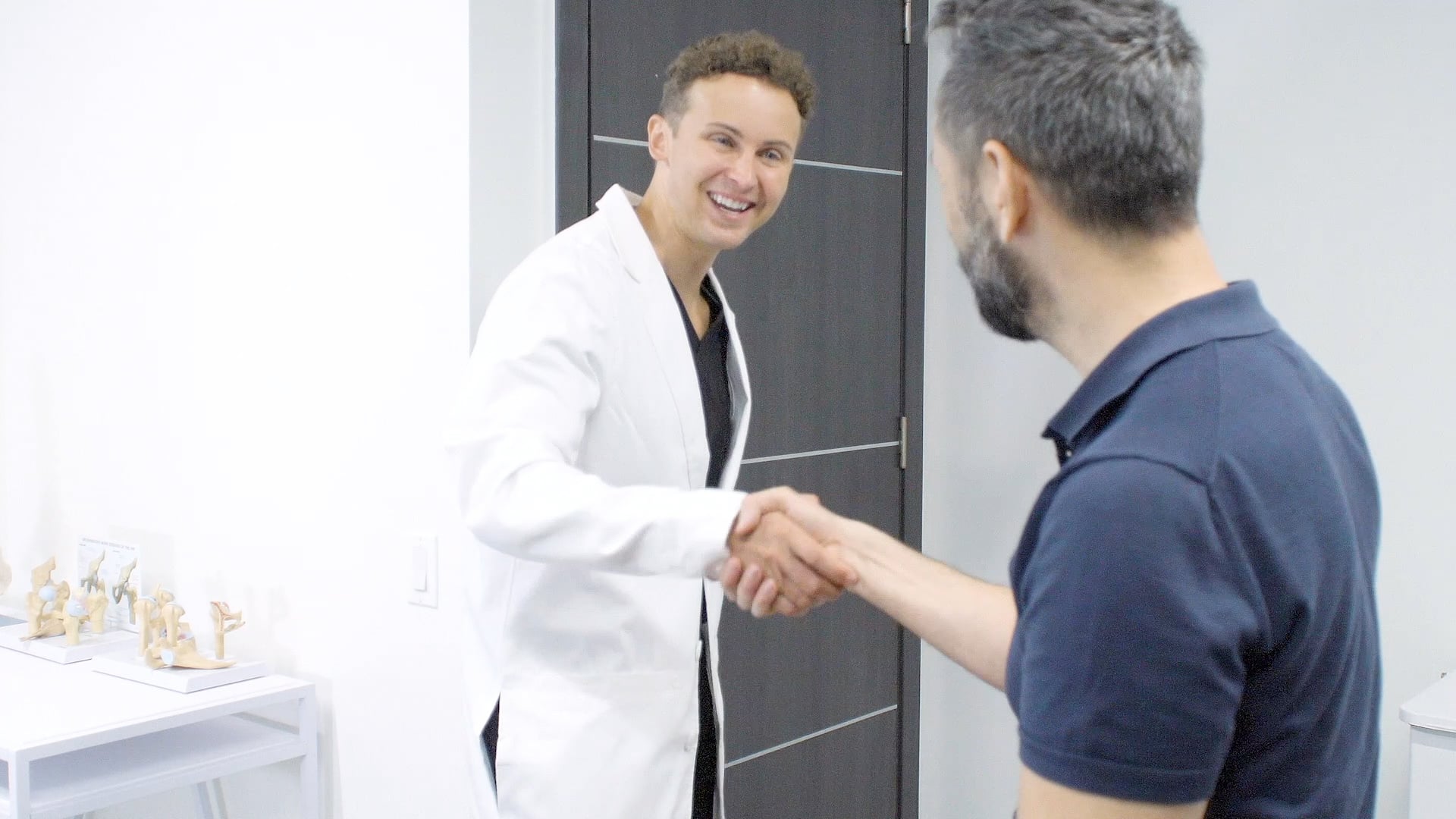 We offer free insurance verification! Fill out the form and expect a call from one of our agents:
What Can I Do At Home for My Hip Problem?
Using over the counter pain medicines like aspirin or ibuprofen help with short-term hip pain relief. Stretches are also effective, especially in the morning when your hip is likely to be more stiff after a night's sleep. Gentle exercises like swimming or yoga are also great for keeping your hip moving and your heart healthy. Maintaining a healthy weight also puts less stress on your hip joints, and is beneficial for your overall well-being.
Book an appointment at Pain Treatment Specialists and meet with a hip doctor who cares about improving your quality of life. Don't let your fear of aging prevent you from finding relief from chronic hip pain. Grow older gracefully… and also without hip pain!
LEARN MORE ABOUT OUR TEAM OF SPINE & JOINT SPECIALISTS IN NEW YORK & NEW JERSEY:

Call us
Speak instantly with an agent to verify your insurance and book an appointment.
(866) 446-0946

Book Online
Visit our
Book appointment 
page
and instantly request an appointment at a Spine & Joint center near you. We offer Free Insurance Verification before your appointment.

Get Directions
Learn how to easily get to the Spine & Joint center locations.
FEATURED POSTS BY PAIN DOCTORS
How Do You Know When to See a Doctor for Back Pain?Getting ready for a warm weather vacation? Time to unpack your summer clothing bins and begin packing your bags. You head to the basement to begin sorting through swimsuits and tank tops, but are left stunned by the...
read more